女人我最大 ( 新加坡 ) ( Nu Ren Wo Zui Da), a popular Taiwanese beauty talk show TV programme, is starting a special TV series here in Singapore on Starhub Channel. That day I was selected as one of the makeover models to go up on stage as models for the 'Lao Shi's' ( or stylists/ beauty experts) demonstrate skincare,makeup and hair styling tips on. After a round of audition, I was told to be their skincare model where Bryan Lao Shi (Bryan Gan) would perform some simple facial massage on my face for the audience to see.
I was super hyped up by that day's roadshow because I couldn't contain my excitement when I know that the famous Taiwanese beauty host , 蓝心湄 Lan Xin Mei (or Pauline Lan) and Taiwanese celebrity makeup artist, 小凱老師 ( Xiao Kai Lao Shi) are going to be on stage later! But before they appear on stage, a few Starhub customers were invited on stage to play a little game to win some attractive prizes.
Both Pauline Gan and Kelly Poon are unimaginably skinny and lean in real life. Look at how lean their legs are?
As usual, Pauline was super bubbly that day. I think her bubbly and spontaneous personality is what makes her shine as a beauty talk host for the Taiwan's edition of 女人我最大 . This popular Taiwanese beauty show first started several years back as a beauty TV show where several well-known makeup artists and stylists were invited to the programme to share about tips and ideas for women to look and feel more beautiful about themselves. In fact, this was one of my favourite TV programme on Starhub Channel and I used to watch it every night during my uni days. The best part of the show was when they invited famous Taiwanese actresses and singers to their TV studio to share about their beauty secrets. Where else could you get such valuable information on beauty tips other than this show? Besides flipping to fashion magazines like Seventeen and CLEO, I actually learned most of the makeup skills and beauty tips from this TV programme. And right now, there's a Singapore edition of 女人我最大 which they are currently filming right now. This new TV programme will debut on E City, Starhub Channel 111/825 from 20 May at 8 pm.
For the next segment of the programme, the programme host, Pei Fen selected 4 lucky ladies from the crowd to pair up with Pauline, Clarence and Kelly to dress up 3 models with summer fashion wear and accessories.
A sun hat and a bright yellow off-shoulder top do scream summer pretty loud and clear. But I guess for any average female Singaporean, the colours might be a little too loud and vibrant for an everyday outfit.
The modern chic lady look that gives that oomph factor. In Singapore, we call this the 'atas' lady look where the malay word 'atas' means high-class. If you're from the high society, you might want to consider this look.
Sweet romantic girl-next-door look where pink spells the colour of feminity. Most Singaporean females would definitely go for this look because we just love wearing dresses, don't we? Pretty dresses is an unagreeably fashion staple here for most Singapore women. It's affordable, easy to put on and best of all, it works pretty well for all occasions – from casual to formal.
And the winning team is nonetheless, Kelly's team as her model receives the loudest cheer from the crowd.
Up next was Xiao Kai Lao Shi and Ken Lao Shi's appearances. Gosh, you have no idea how suave and stunning Xiao Kao Lao Shi look. His chiselled look and alluring eyes would send any girl's heart go fluttering.
On stage, both Xiao Kai Lao Shi and Ken have really warm personalities. Have you wonder why men always make good stylists and beauty experts? Maybe they have a better idea and definition of what beauty is in women.
I love how he interacted with the crowd when he stepped down from the platform and approached a lady who would like to seek his beauty advice.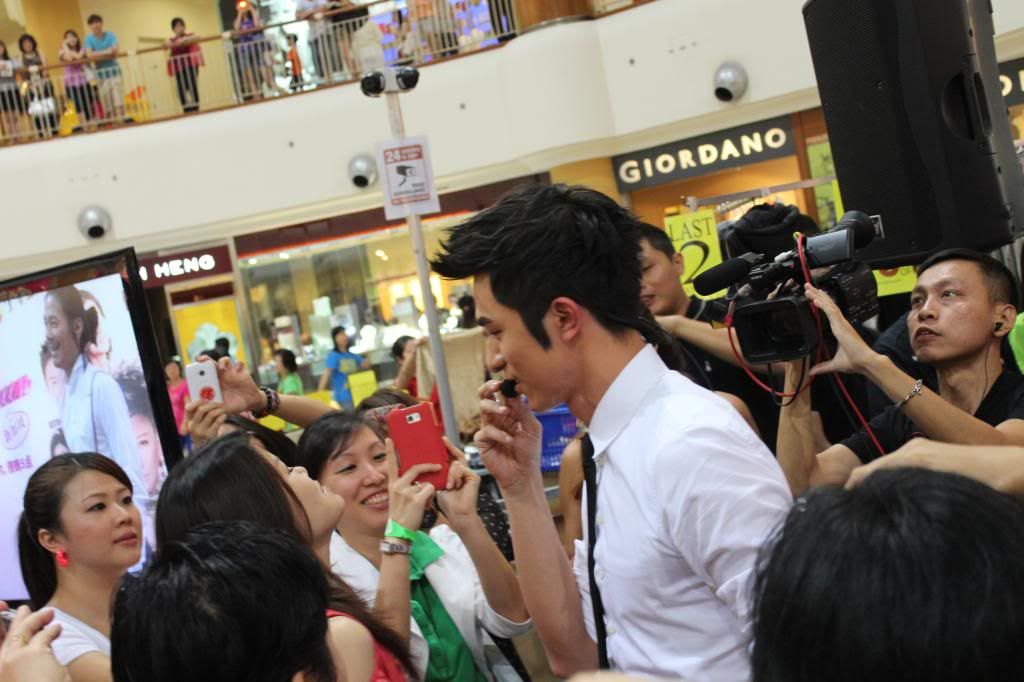 Then, comes to the last segment of the roadshow, where the four beauty experts were tasked to help 4 lucky Starhub customers to do a makeover.
This lovely lady here got a makeover from Xiao Kai Lao Shi. She's really fortunate, I must say! It's such a rare opportunity to get a makeover from a celebrity makeup artist!
As he was introducing all the amazing beauty products, I was busy snapping pictures with my DSLR, trying to compete with the other photographers infront for a good photo spot. Life's tough as a media personnel. It could be pretty daunting to be standing with those men in black who try all means to get the perfect professional shot when you are only an amateur photographer trying your best to take interesting and clear shots.
He was really concentrating hard on applying the makeup on this lady over here. You could see beads of perspiration forming on his forehead!
Almost there…! So while Xiao Kai Lao Shi was working on the eyemakeup, Ken Lao Shi started snipping his model's hair.
A hair transformation within 10 minutes! That's quite a feat actually!
Xiao Kai Lao Shi's generosity could be seen when he actually gave one of the audience from the crowd his make-up products!
Soon, I was called to go backstage to get ready to head up to the stage later. At the backstage, I get to mingle a little with the other makeover models and Lao Shi. I also grabbed the opportunity to take pictures with Kelly Poon,Bryan Lao Shi and the other beauty experts!
Clarence Lao Shi with his model
While I was at backstage preparing to go up, I asked Christy to help me take photographs of me while on stage and she kindly agreed! Thank you so much, Christy, if you are reading this!
For a moment, I thought I looked pretty weird with a pink hairband with a formal black dress but who cares, I'm already up on stage and it's too late to do anything!
Generally, I don't face any major skincare problem except for that fact that I had rather enlarged pores on my T-zone area and my skin has tiny little bumps occasionally. Other than that, it's generally quite alright though I wish I could have a more even skin tone and lighter dark circles around my eyes!
Right after he cleanse my face with toner, he applied a generous amount of massaging oil and water on my face and with a small rose pink Gua sha plate, he gently massage the oil into my face using an upward stroke movement to gently lift up my facial muscles and at the same time, massaging the essential lymphatic and acupressure points on my face. The facial massage actually helps improve the blood circulation which helps brightens up the skin and makes the skin looking more radiant instantly. Good skincare routine with daily massage would goes a long way in making your skin look radiant and youthful.
After all the excitement on stage, I went back stage to take more photos with the other Lao Shi and Pauline!
That's all folks! I had a great time learning so much from this amazing experience.
Thank you so much, Starhub!