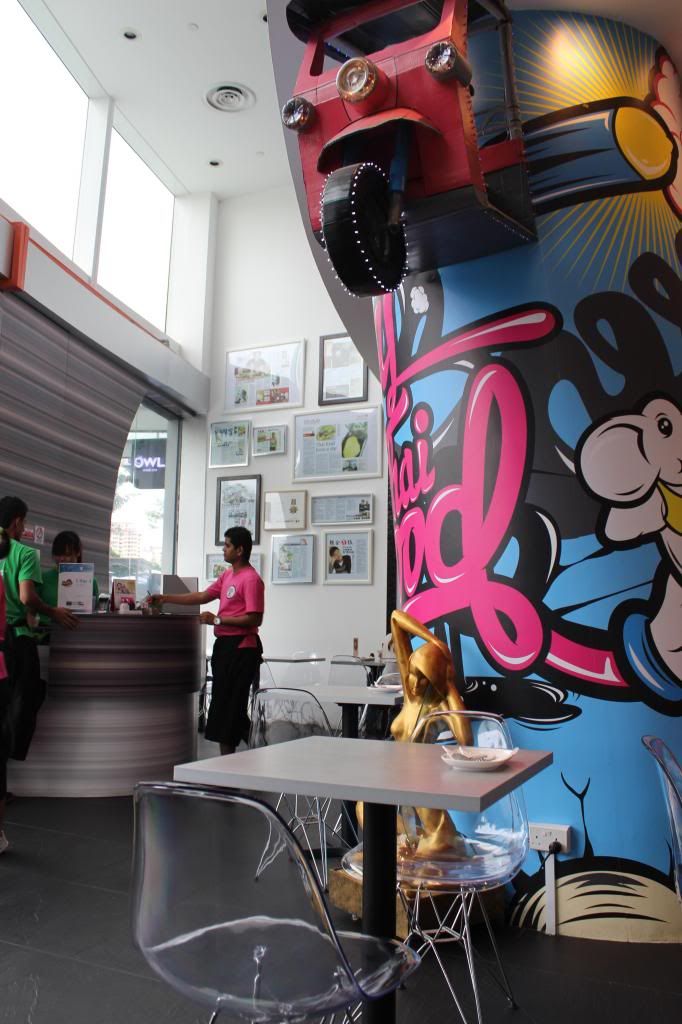 The Star Vista is my current hang-out location and meet-up with friends because it's just next to my gym and besides, there's a Sogurt outlet in this mall which serves my favourite soft-serve yoghurt! Anyhow, I'm always been wanting to try out the Thai food served in this cafe which was opened by Pornsak Prajakwit, Mediacorp's actor or a local celebrity over here in Singapore. Pornsak is a well-loved Thai-Chinese TV host here in Singapore. His amiable smile and outgoing personality lands him on a job as a Food and Travel host in Mediacorp. Since this cafe is opened by a true-blue Thai, I reckon that the food here would taste somewhat authentic and traditional. But after sampling the papaya salad over here, images of spicy papaya salad I had in the streets of Bangkok started conjuring in my mind and like any Thai food lover, I am starting to make the utmost comparisons in terms of taste and flavour. Okay, I have to admit that I definitely prefer eating Thai food at Ah Loy Thai at Shaw Tower than at Porn's.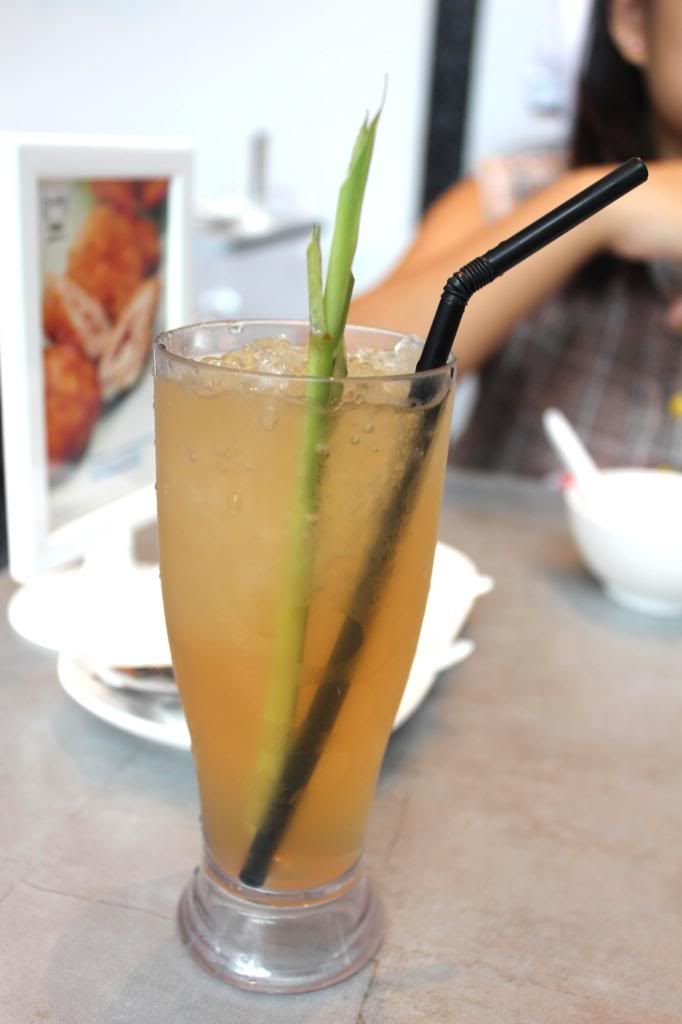 Lemongrass Drink SGD4.50
According to their menu, this is their signature drink and of course, I had to try their signature drink to see if they are right about their concoctions of beverages. Indeed, the lemongrass drink has a pleasant cooling herbal taste but it was a little tad too sweet for my liking. Though it's perhaps one of the more refreshing drinks in the menu for a warm climate in Singapore.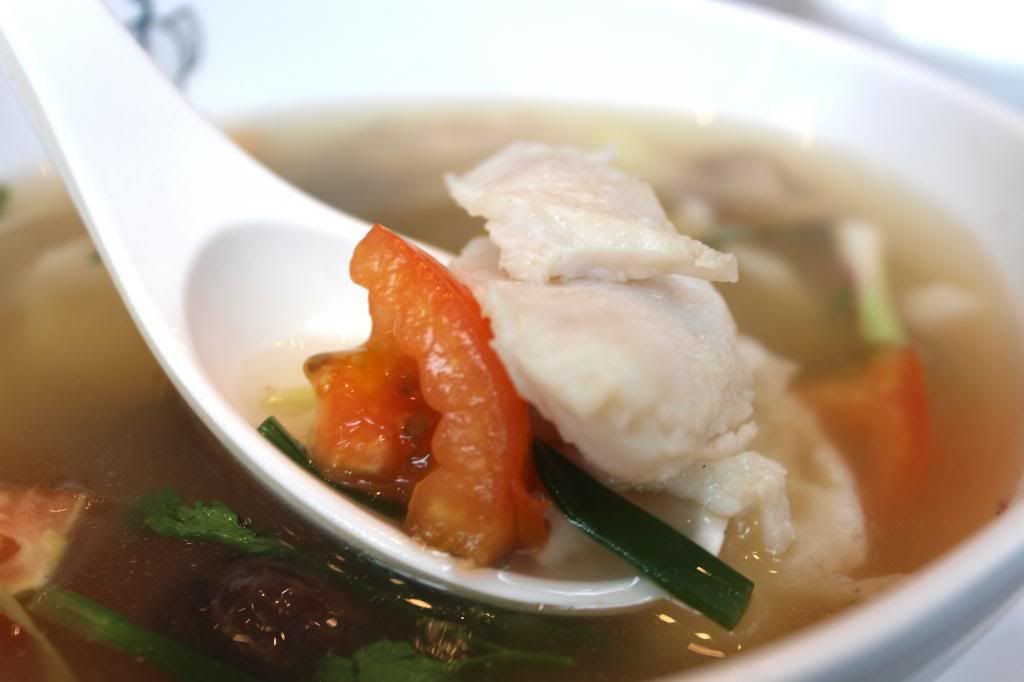 Tom Yum Fish – Clear Soup Base SGD10.90 (small)
I was with my tutorial mate and that day we both decided to have something clean and light. So we opted for papaya salad and some Tom Yum soup. The Tom Yum soup was very satisfying as it was sourish and appetizing at the same time. It isn't very spicy at all which makes it a good option for those who can't take spicy food. Immerse in the soup were large chunks of fish,tomatoes,lemongrass and herbs which probably made this bowl of soup so flavourful. I would definitely give a thumbs-up for their soup which really whets my appetite.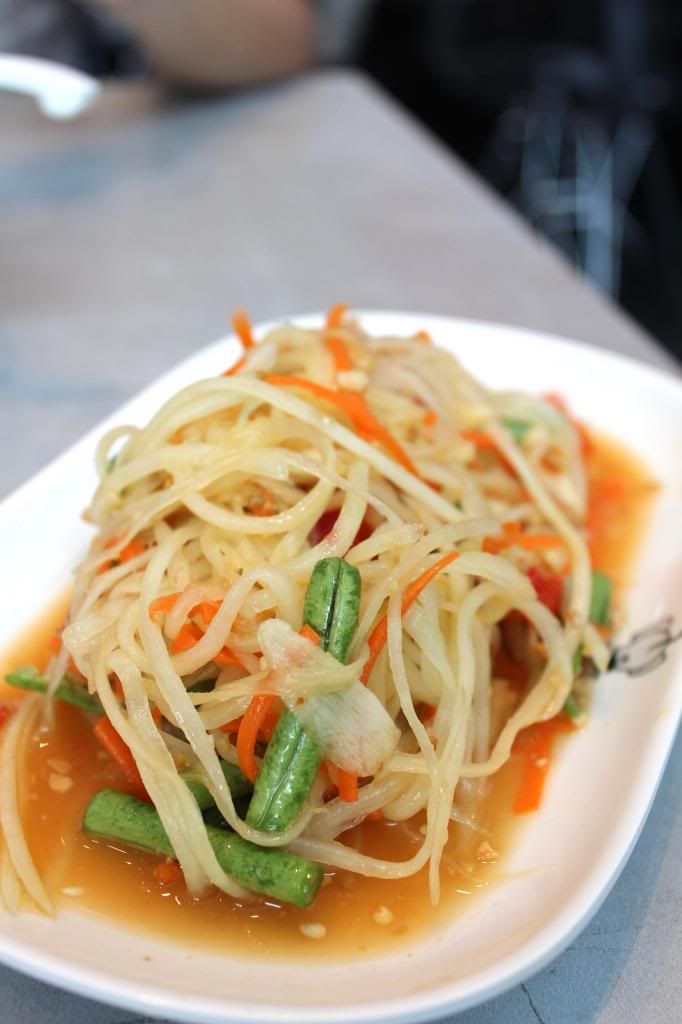 Papaya Salad
I am not too sure if its papaya salad normally tasted like this but that day when we tried the salad, I was caught by surprise by the unpleasant taste in its shredded green papaya. It might be either too raw or it has gone bad because everything else – from the dressing to the other salad ingredients – tasted fine except the green papaya. Speaking of which, it might be due to the variety of papaya they chose to make the salad. Whatever the reason it might be, this plate of papaya salad would make any diners to hold back their forks.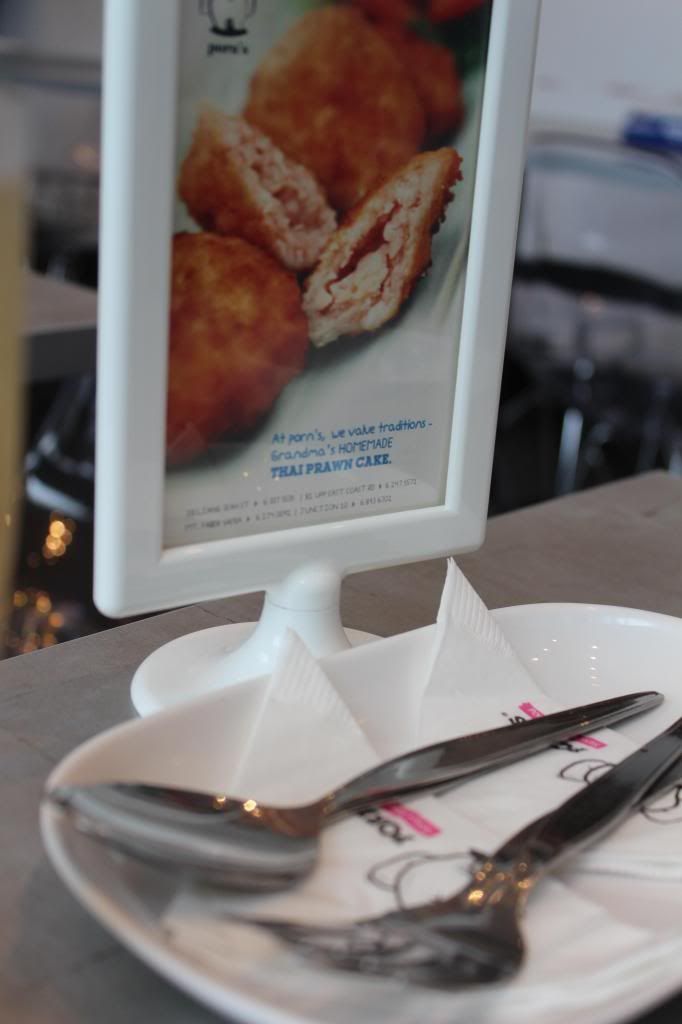 Though I was disappointed by its papaya salad which didn't turn out the way it should taste, I would definitely be back to this modern Thai cafe to try their popular dishes like Thai Fish cake, Thai Mango Sticky rice and Green curry with chicken. Because I believe that somehow, you will never go wrong with Thai food. With all the natural flavourful herbs and spices used in making Thai food, it's hard for any food to go wrong with it. That's the beauty about Asian food like Thai and Balinese.
THE STAR VISTA
1 Vista Exchange Green, #02-09
Singapore 138617
Operation Hours:
Monday – Sunday : 11am to 10pm
Contact : +65 6694 3501