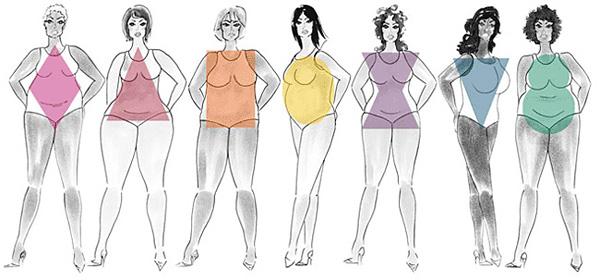 We are all made beautifully and comes in different shapes and sizes. But that doesn't mean that our shapes and size are fixed. I used to think that changing our shape is somewhat impossible since our bone structure has already been predetermined in our DNA. So I always think that if you are on a heavy side and have pear-shaped body, you will still retain that shape even after weight loss. But I guess I was wrong because depending on your exercise routines, diet and lifestyle habits, your shape could actually change drastically. For instance, I used to have a pear-shaped body and after 3 years of regular exercise, I find that my hips are now slightly narrower, my lower curves gradually disappear and my body becomes more rectangular.
And do you also know that you could also change your body shape by wearing the correct lingerie too? Our body shape could be determined by our bust, waist and hip measurements. So even if you have a small bust size and narrow hips, you could actually achieve an hour-glass figure just by wearing a bra that gives your breast more lift. Wearing a corsage or other shape wear could also help you achieve that desirable body shape.
A visit to Triumph's boutique store is really worth-while because that's where I get to learn a lot more about the various feminine body shapes and types of bras.
This festive season is a great opportunity to dress to the nines by experimenting with different styles of clothing and perhaps, lingerie too. I am not just talking about cleavage and looking seductive to the opposite gender, rather it is about looking more feminine while feeling comfortable, confident and beautiful in your own skin. A good lift really boosts your confidence and I experienced this ever since I own a Triumph's bra.
For this festive season, where there's parties to attend and dresses to flaunt, the most suitable bra for such occasions would be those strapless bras but I still prefer bras with well-supported straps because it creates a more natural cleavage and most important of all, it gives your ultra comfort as you brave the world. So I went with their maximizer Aqua series, the Aqua Deep V in white. I really like its lacy white design.
Triumph's boutique store at ION orchard is one of their new outlets with a swanky fitting room. If you needed any assistance while you're in the fitting room, all you need is just to press the help button found in the room.
Before the fitting session, the boutique assistant took my measurements and got me to try on the sizes. With her help, it makes it so much easier and quicker to shop for bras because they are experience in looking up for the right sizes.
After the fitting session, she also did a body shape analysis and shared with me on how our body shape could change with the right lingerie.
I had an 'I' body shape where most Singaporean women would be categorized under. But of course, the desirable shape that most women want is the 'S' shape body or hour glass figure. And to achieve that, I could wear their shape wear for a narrow waist or wear a good bra that increases the bust size.
I went home with the Aqua Deep V bra as well as a matching underwear. The bra is intricately-designed and I really love the floral details.
As the bra is padded with Aqua padding, it actually helps to increase the bust size and up the volume of the breast. And the high side panels of the bra helps to smoothen out those bulges at the back.
The fabric used is amazingly smooth and stretchable. With one touch, you could tell the quality of the fabric.
Wear the right one to create a beautiful silhouette.