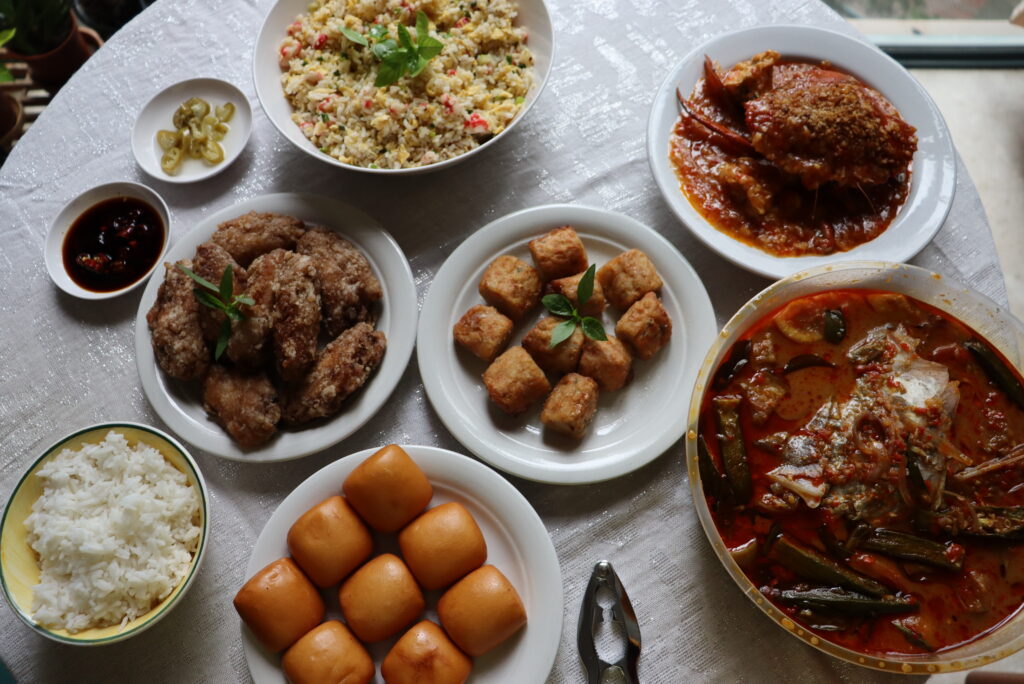 Craving for chili crabs but want to enjoy it in the comfort of your home instead of heading to a restaurant? You can order fresh gourmet crabs from 8 Crabs, a local seafood food delivery service which specialises in crabs. They are also a seafood importer specialising in wild catch crabs and other seafood from Sri Lanka. And the best part is that they are able to deliver the freshly cooked crabs within one hour from the time of your order!
I've tried their value set meal along with their medium-sized Sri Lankan Crabs and here's my honest review of their food and service.
Delicious Value-for-money Set meals for the family
Delivery was smooth. They managed to deliver the food within my chosen timeframe in the evening. All the dishes were packed in microwavable plastic boxes. Since they are packed in an insulated delivery bag, the food is still kept warm. To prevent some of the dishes from loosing its crispness, they even create a vent in the container just to let out the steam and prevent condensation. The only downside is that the vegetables that were used to garnish some of the dishes turned soggy and the stir-fried Kai Lan looks like it has been left in the open for too long. All in all, the food is generally delicious, fresh and appetising. More importantly, they are so value for money that I've been recommending others to give 8 Crabs a try.
In general, the portions are beyond generous. Even though their value set meal is meant to feed 2 to 3 pax but we felt that it could feed a family of 4 to 5. It's very value for money. I ordered this meal for 4 pax and there were so much leftovers after we ate till we are so full and satisfied.
What I've ordered from 8 Crabs?
I ordered their value set meal or ZI CHAR King set meal which comes with Prawn Paste Chicken (Har Cheong Kai), Deep Fried Prawn Roll (Ngoh Hiang), Stir-fried Kai Lan and Yang Zhou Fried Rice. I also got the optional add-on of the crabs where I paid an extra $39.90 for 2 medium-sized Sri Lankan crabs. This 1-for-1 crab promo is super worth the deal because it even comes with an additional fried man tou set (9 pieces). Imagine, 2 crabs for around $40? You guys better act fast before the promo is over. You can choose either chili, black pepper or steamed crabs for the medium-sized crabs. For regular and large-sized crabs, you can opt for the salted egg version.
In addition, I also ordered Curry Fish Head because my Dad love eating fish and a small bowl of white rice just in case there isn't enough fried rice for the four of us. (But it turns out that the portion of fried rice they gave is huge.)
Let's Talk About Crabs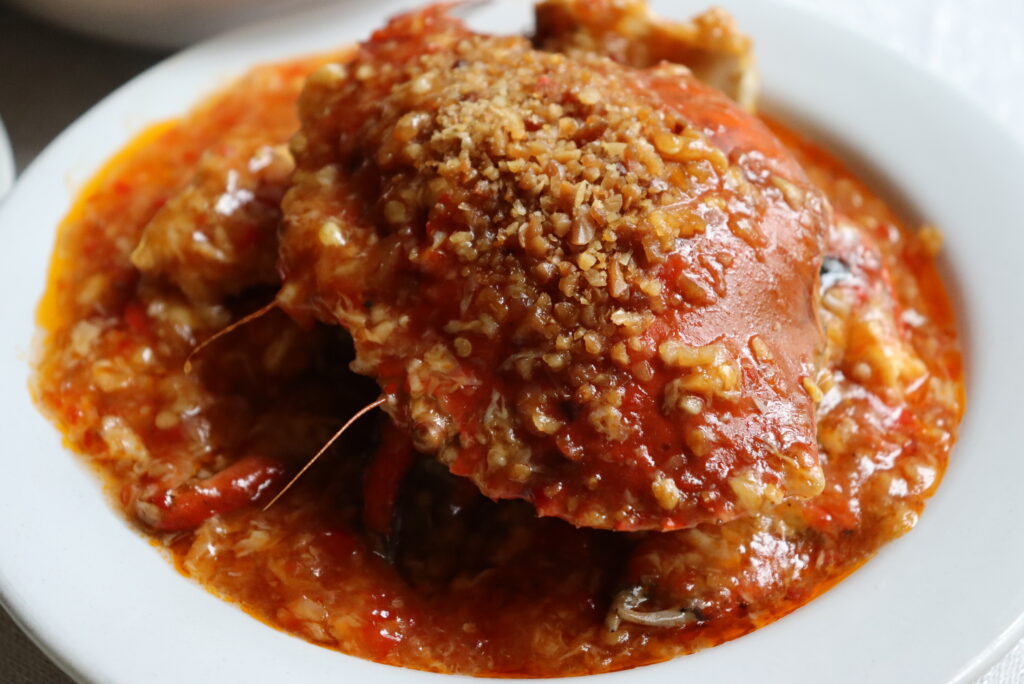 I've got not only one but two chili crabs on my dining table. Both crabs were swimming in a thick pool of chili crab sauce gravy. There's so much excess gravy that you could drizzle it over the rice and still have more left as a dip for the fried buns.
Apparently, 8 Crabs offer three sizes of crabs: medium, regular and large. They are all AAA graded wild catch crabs from Sri Lankan which are supposedly to be meatier, tastier and less watery. Based on their Facebook reviews, some actually recommended getting the large ones as there's more meat in it. I guess this maybe somewhat true.
Although the medium-sized crabs (which is supposedly smaller than regular) don't have much meat in it, the meat is very sweet and fresh. One medium-size crab is enough for 2. For the price we paid, it is still very worth it because it even includes the best part of the crab, that is, the crab roe. It's tucked right under the top shell and has a lovely umami taste.
They even throw in a Crab leg cracker for free!
I could only say that it was really thoughtful of them to include the crab leg cracker since most of us probably would not own one at home. With this tool, it made it so much easier to extract all the meaty bits in the crab.
Fried Man Tou (Buns)
How could you not eat Man Tou with the luxurious and tasty Chili crab sauce? It's a norm for us in Singapore here to dip the buns into the sauce to soak up all the goodness.
The other 8 Crab Dishes We've Tried
The rest of the dishes were pretty decent too, including the fish head curry. We didn't expect the fish head curry to be prepared in such a huge portion too. It's filled with lots of ingredients and the fish was meaty. Nevertheless, we felt that these Zi Char dishes would be best enjoyed which they served à la minute.
You can also order other dishes such as prawns, lobster, crawfish, clams, scallops and meat.
Deep-fried Prawn Roll (Ngoh Hiang)
Prawn Paste Chicken (Har Cheong Kai)
Yang Zhou Fried Rice
Stir-fried Kai Lan
Curry Fish Head (Nyonya Style)
My Verdict on 8 Crabs
Overall, it was a very hearty and wholesome meal for the family. It is also a great food option if you just want to enjoy some Zi Char along with some crabs in the comfort of your own home with your family or friends. For any crab lovers out there, this is simply a treat!
To save some bucks, it is best to place your order with them in advance. The standard delivery fee is $8 and the express 1 hour delivery is $18. Do check out 8 Crabs Facebook page or website for promotions too!