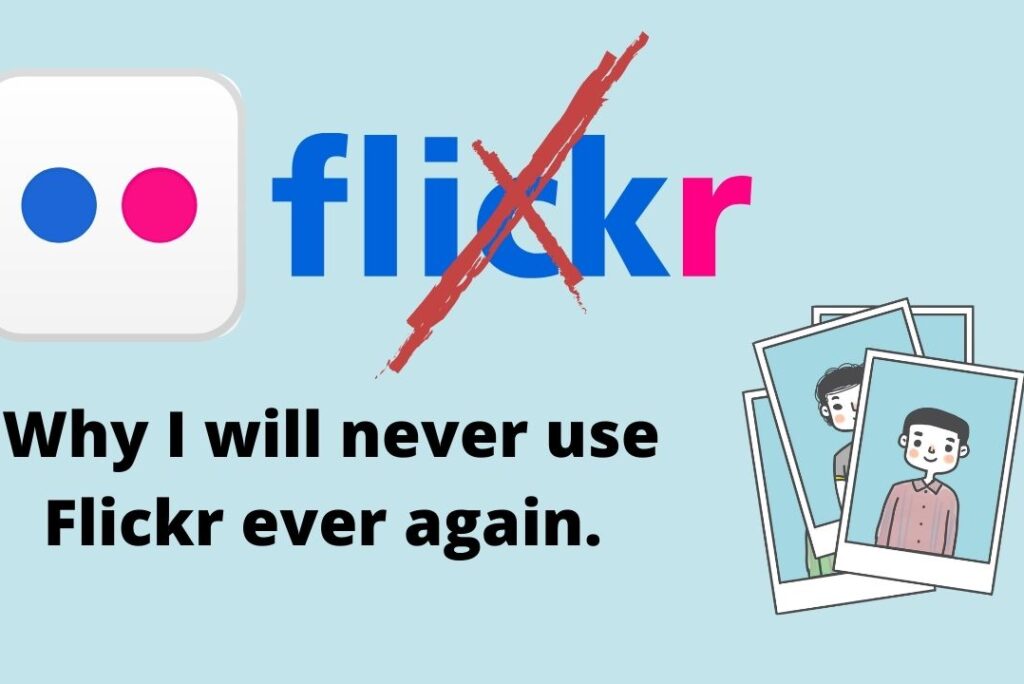 I am still grieving over the lost of photos which I've accumulated since 2010. That's how long I've been using Flickr and supporting their services by paying subscription fees so that I could get more storage.
Now here's what happened.
They said my account flouted one of their rules.
I guess it all started when this one fella claimed the rights to a photo which I've uploaded on my Flickr account. This photo was taken by him but it was a royalty-free image shared on Unsplash. I've been downloading images on Unsplash and uploading them onto Flickr so that I could embedded them in my post for years. But this is the first time my account was flagged out by Flickr.
So Flickr sent me quite a nasty email which sounded so informal that I had to check with them if the email was a spam.
5 April 2021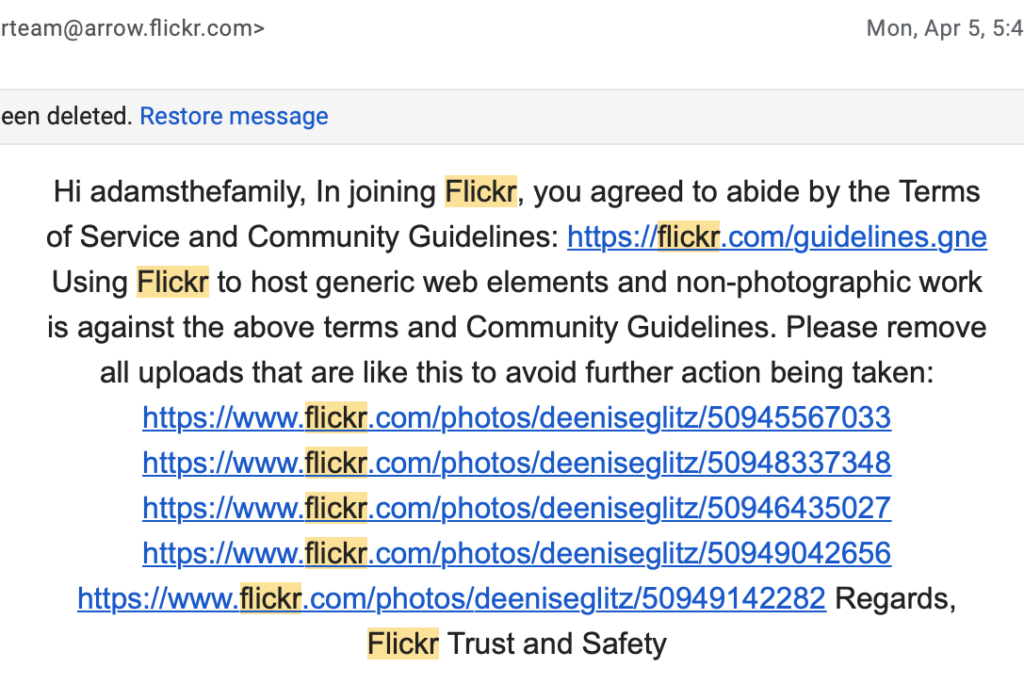 Doesn't this look like a spam email thread?
I straightaway deleted those photos which are flagged and wrote them an email to explain that those photos were royalty-free or screenshots of the full websites. They did not reply. And I thought everything should be okay.
Before 5 April, I also received an email which is flagged out by a user who claimed that photo belonged to him. I don't deny it belonged to him but he posted it on Unsplash and I thought it was meant to be shared. I credited him in my blog. Lesson learnt: avoid using royalty-free images because one day, the photographers may just decide to claim the copyrights.
21 April 2021
About two weeks later, I discovered that they sent me another email to notify me that my account has been terminated. Because this email went to my junk mail, I had no idea that my account was terminated. And once my account is gone, all the Flickr links which were embedded in my blog posts were all gone. I've literally over 1,900 blog posts now without images. All thanks to Flickr.
29 April 2021
I only realised something amiss with my Flickr account after one of my PR I've worked me mentioned that she was unable to view the photos of my previous blog posts.
It was 4 plus in the morning and I was tossing and turning in the bed. I could not sleep at all after realising that I could not even log into my own account. At that point in time, I was devastated. My heart just sank when I come to realise that over 300,000 photos in my account were all wiped out in an instant.
I was hoping that it was just a site or server error on their part. But no, the cold hard truth really hurts. I sent them an email to clarify and they replied me with this email.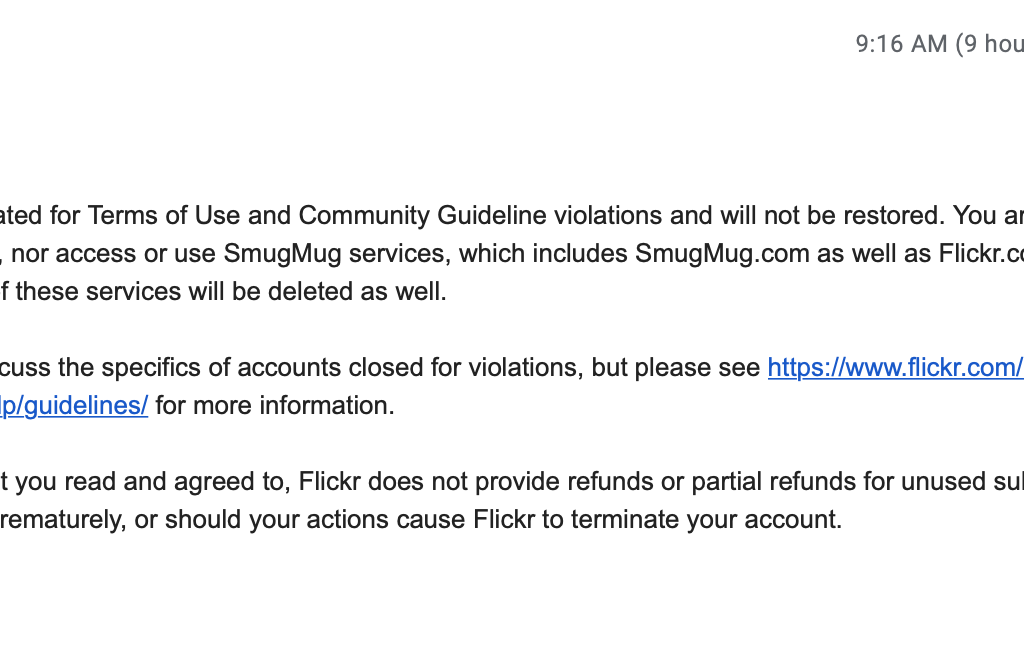 Maybe I should have done this.
I looked back at the decisions I've made. I wasn't quite sure back then in 2019 about paying membership fees with Flickr. However, because I was so heavily reliant on their site, I decided to subscribe to their membership. Maybe it is not such a good idea after all.
When I first got the warning email from them, I did have thoughts about downloading all the photos and do a backup just in case they really terminate my account. But I have so many photos and videos on Flickr that I was afraid that it might be really tedious to do a backup. At the same time, I was hoping that they would tell me which photos I needed to remove so that my account would be safe. I had faith in them.
Now I know I shouldn't put my trust in people and even more so, in companies. Nothing is really secure.
I could have blame myself for such foolishness but at the same time, I just wish that Flickr would be more gracious and understanding.
Overcoming the loss of my digital assets
Moving forward, I shall use the storage space within my website and store important photo keepsakes in my hard disk. What's gone is all gone now. I'm only praying that the tide would change. I just hope that they would at least allow me to retrieve all the precious photos I owned. Because majority of them were images taken by myself using my own camera.
Through this 11 years of my blogging journey, this challenge is probably the toughest. My site has been hacked before and gone through other obstacles. But never before have I encountered such an obstacle which resulted a huge lost and regret in my life.
I'm learning to forgive myself and letting go. Like any tangible items, intangible items such as this can one day be wiped out should the internet crash. But what truly remains is our relationship with people and our Father in Heaven.
Bless me indeed, O Lord. The Lord shall fight and vindicate for me.
Bye Flickr.
"No weapon formed against you shall prosper, And every tongue which rises against you in judgment You shall condemn. This is the heritage of the servants of the LORD, And their righteousness is from Me," Says the LORD. – Isaiah 54:17