My website is currently hosted by Exabytes and I've been with them for almost a year. It is so far so good as my site did not encounter any major server issues that causes my website to be down. There were some compatibility and SEO issues at the start right after the migration, but they were all resolved. And most important of all, the speed of my website has improved tremendously with Exabytes.
This time, I am trying out their latest WordPress Hosting Plan – WP12 business. They have introduced 3 other new WP hosting plans, namely, WP 12 Beginner, WP E-commerce and WP12 Ultimate. I find that this time round their hosting plans are more comprehensive, cheaper and more value for money.
4 different types off WordPress Hosting Plans by Exabytes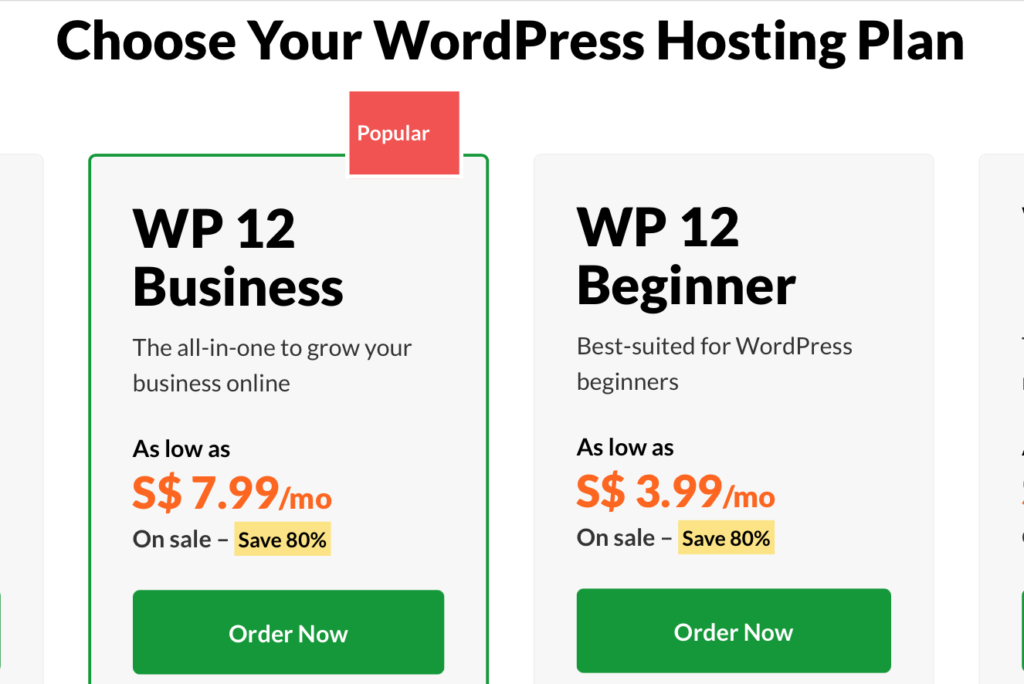 Prices for their WP hosting plans ranges from SGD$3.99 to SGD$39.99 per month. And this price is a flat renewal rate so you don't have to worry about any increase in pricing. I do not know about you but this is a pretty good deal as compared to other hosting sites.
For only $3.99 per month, you are able to host up to 30 websites, 30 email accounts and run your websites on their Ultrafast LiteSpeed server. That will work to be about $47.88 per year if you are hosting your WordPress site with Exabytes. All of their 4 WP hosting plans are equipped with these features.
Types of WordPress Hosting Plans
WP12 Commerce
WP12 Business (My site is currently running on this package!)
WP12 Beginner
WP12 Ultimate
What's covered in all four of the WP Hosting Plans? And why you should get a WordPress hosting package
1. Ultrafast LiteSpeed Server
With their LiteSpeed server, your websites will load faster and perform better. I noticed this immediate change in loading speed after my website was hosted on WP12 Business. It now loads so much faster than before.
2. WordPress Accelerator
Once you signed up with their hosting plans, your website will be equipped with a LiteSpeed Cache for WordPress (LSCWP) plugin, an all-in-one site acceleration. Together with their LiteSpeed entreprise servers, your website will run even faster than before.
3. 24/7 WordPress support
Round technical support is crucial in case when you encounter issues with your website. Once it is down, you can immediately email or WhatsApp them. So far, the replies have been quick and I often get a respond within a couple of hours.
4. SSD storage
The hosting plan also comes with SSD (solid-state hard drive)which has a 10 times faster loading speed compared to SATA (Serial Advanced Technology Attachment).
5. Enhanced Security and Daily backups
Be worry-free with daily backups performed by Exabytes. You can restore all your data during a cyberattack with just one click.
It also comes with Website Security360 protection, Automatic Malware Scan, WordPress security scan and security patch. The plan comes with free daily backups too. With this enhanced security, you can run a safe and secured website with a peace of mind.
6. Google Site Kit
With Google Site Kit, you can get insights on how customers visit and use your website. You can also gather data to find out what you should be doing to your website next to achieve better search results. The Google Site Kit will include Search console, Google Analytics, PageSpeed insights and Adsense.
7. Dedicated Account Manager
With a dedicated account manager, it is easier for them to resolve your website issue quickly. The account manager is your voice to make sure that every needs of the costomer is met.Service will also be more personalised since the account manager would have understood your site better.
8. Free lifetime domain
Uou will get a complimentary .SG / .COM domain with any yearly hosting plan signups on Exabytes. As long as the hosting remains active with Exabytes, they'll help to renew your domain. Yes, the domain is FREE forever.
WP12 Business Hosting Plan
The hosting plan that I got is WP12 Business. This plan is one grade above WP Beginner. It is suitable for companies who run more than one website which has a monthly visit of 100,000. This plan includes a free lifetime domain (which is awesome) so that you don't have to purchase a separate domain. This is indeed a cost-saving plan.
And with the 100-days Moneyback guarantee, you can cancel and get 100% refund with no reason over the next 100 days.
Other features of WP12 Business Hosting Plan
Host up to 90 websites
Unlimited email accounts
90 GB Fast SSD storage
Free daily backup
Enhance website security 360
Ultrafast LiteSpeed server
Free SSL
WordPress Management
WordPress Acceleration
Support basic WordPress
Support Cloudfare
100 Days Moneyback Guarantee
My Verdict and Recommendation
The migration was done by their team and they do charge for the site migration if you are switching hosting plans or host provider. The migration process was relatively fast. The only issue I encountered thus far is the site index page errors surfaced by Google search console. However, the issue was resolved after consulting Exabytes technical team of experts.
They have also improved their service team and their email replies are now much faster than before. This is important for website owners who want to ensure that their website is up and running for 247.
Overall, I was pretty satisfied with the current site speed which was an improvement from their previous version of WordPress hosting plan. I just needed to make some minor adjustments to my site to improve the overall efficacy of the site. So far, everyone's been good and I noticed that there are fewer issues with my website after I've hosted my site on WP12 Business. For anyone planning to start an e-commerce website, I highly recommend that you get WP12 Buisness or WP12 intimate.
Do check out Exabytes website to find out more other hosting plans which includes Business Web Hosting and cPanel web hosting. Enjoy $10 off for your first-time signup! Also, stand a change to win an iPhone 12 when you make a purchase with Exabytes!