In Singapore, the COVID-19 Vaccination programme is done in stages. The first batch of Singaporeans which gets to get the jab is the elderly aged 60 and above. It also includes healthcare workers and other frontline workers who are at higher risk of contracting the virus due to the nature of their job. This followed by educators, like myself, (but I have since quit my job) who can sign up for the vaccination as we are working in school setting and is in contact with a large number of students. Now it is open to those ages above 40 and those aged 12 and above, with priority given to graduating cohort of students.
As of date, the vaccination is not compulsory and citizens can decided whether they would want to take it or not. Since the vaccine is currently free for all Singaporeans and long-term residents, why not?
How did my COVID-19 Vaccination went?
I took my vaccine shot in April and have since completed the two shots. How has it been? I was first notified via a SMS notification from Ministry of Health, requesting me to sign up for my first vaccine appointment. There are many vaccination centres across Singapore and all of these centres operate till late evening. Most of the centres are also opened on weekends. I booked my slot at a community centre which administers the Moderna vaccine.
My First Moderna Vaccine Shot
The vaccination was pretty empty at that point and there are no queue. I completed the jab within 10 minutes. I was basically ushered to the waiting area which I sat for about 10 seconds before they ushered me to the registration counter. I was asked several questions to make sure that I am eligible for the vaccination.
After registration, they guided me to one of the vaccination booths to get my shot. I didn't have to wait long before I was called to get the shot. It was a very young chap who was administering the shot and he definitely didn't look anything like over 20 years old. But I guess they are trained. He administered the shot and it was a little painful, like an ant bite, but it lasted just for half a second.
After the jab, I was asked to wait at the post-vaccination area where I sat with 10 other people who have already taken the jab. They are supposed to monitor you for about 30 minutes before you can leave the vaccination area.
I felt fine after the jab and there was no muscle aches or fever after the jab. But we are advised not to perform any vigorous exercise. Luckily, I was okay for the next couple of days because some of my colleagues had major reactions to the jab.
My Second Moderna Vaccine Shot
My second shot took place two weeks later and I have to head to the same vaccination centre for the second jab. The procedures are somewhat similar and likewise, there isn't much of a queue at all. However, there are significantly more people who went for the jab.
This time, I was not spared from the after effects of the jab. My arm felt sore and it got worse for the next couple of days. I also felt lethargic and sleepy on the second day. It was a little difficult to sleep when one of your arm is sore. Thankfully, the soreness disappears on the third day and I was back to normal. Other than that, I was fine. Unfortunately for some of my colleagues, they had it even worse after their second jab. Some of them felt feverish.
Why it is worth taking the shot?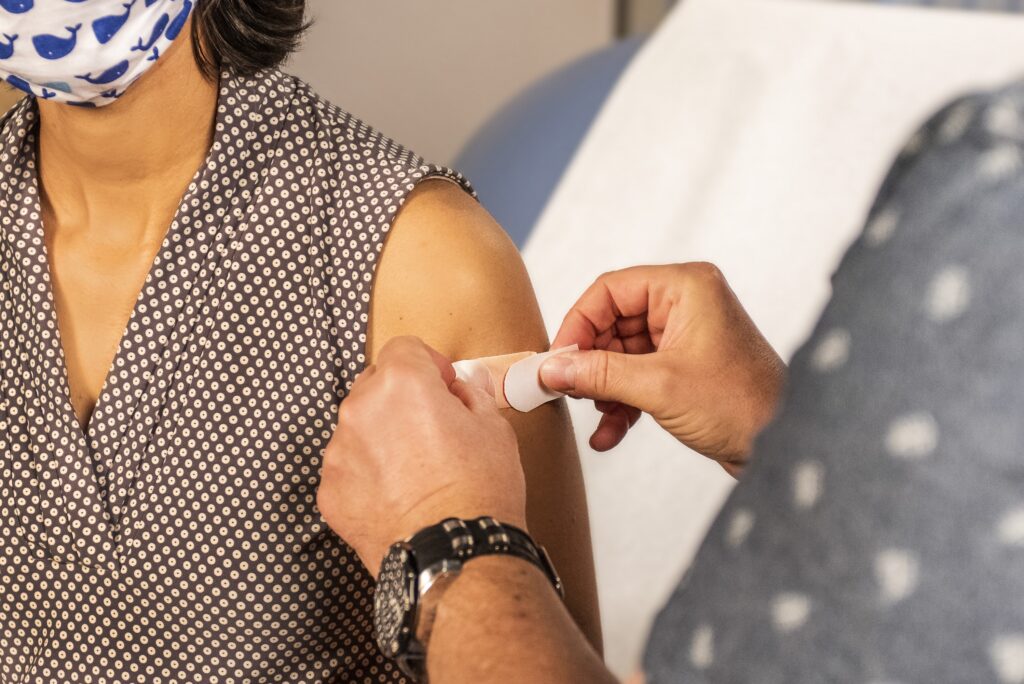 Overall, I must say that the vaccination process was fuss-free and smooth. Thankfully for me, I was well for both jabs. My Dad, who is in his seventies, had also taken the jab and showed no side effects too. I am just thankful that the government ensure that every citizen is vaccinated from COVID-19. However, with the current new COVID-19 variant, it looks like we have to get a booster shot.
If you are eligible to go for the vaccination, I would really urge you to take the vaccine and harbour no fear. Whether it is Moderna, Pfizer-BioNTech or Sinovac, just take the jab as a form of a shield to defend ourselves agains the enemy. Don't the vaccine may not fully protect us against COVID-19 but it will at least increase our immunity system to fight against the virus. Some countries have not even secure the vaccines or some are not providing the vaccines to their citizens for free.
Remember to go for swab test when necessary too!
Eventually, I pray that the virus will weaken as our immunity gets stronger. May the virus be wiped out, in Jesus's name.