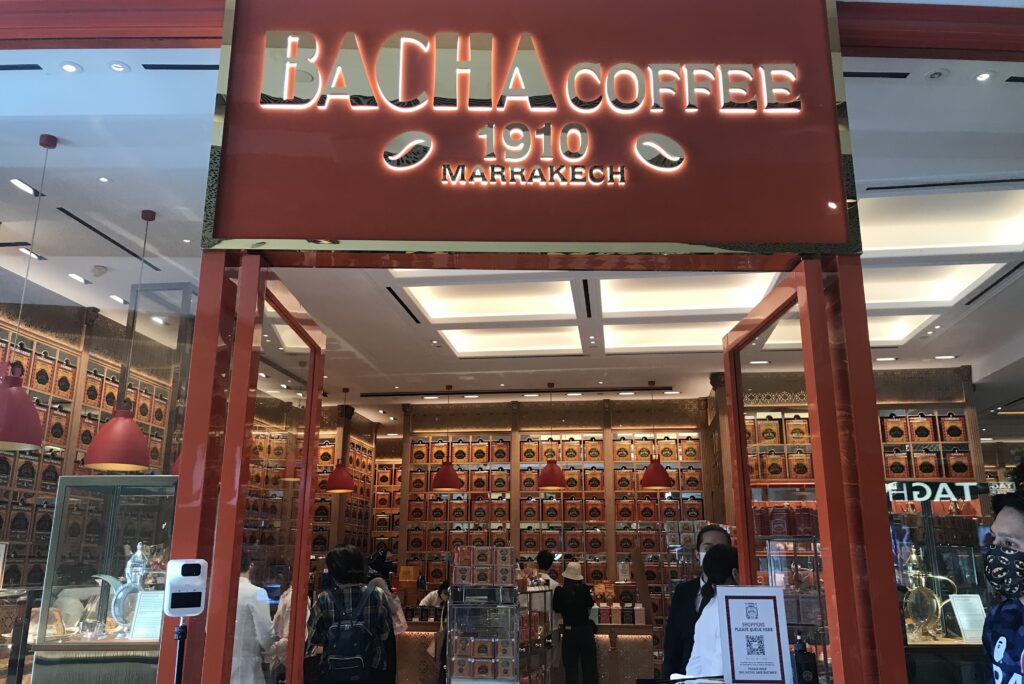 You may find Bacha Coffee strangely similar to TWG tea in terms of the facade of the boutique and branding. True enough, the owner of Bacha Coffee is Taha Bouqhib who also started TWG tea in Singapore. Their food and service are similarly comparable too.
Was it originated from Morocco?
Like TWG tea, Bacha Coffee isn't an established that started a years ago. So, how is the year 1910 associated with the brand itself? It turns out that this coffee brand is inspired by the spectacular palace in Morocco called Dar el Bacha palace which was built in 1910.
This palace is located in culture-rich Marrakech, Morocco. And once upon a time, there was a coffee room within the compound of the palace. This cafe has hosted names like Charlie Chaplin and Winston Churchill. After the second world war, the palace was closed.
However, it was reopened in late 2017 as the Museum of Cultural Confluences. And the cafe has been revived as a luxury brand: Bacha Coffee right in Morocco. The first international outlet happens to be in Singapore.
Clever marketing ploy, I must say.
How's the Moroccan cafe experience?
I visited their coffee room and boutique at level one of ION Orchard which is adjacent to one of the entrances of the mall. I waited about 15 minutes in the queue before we were given a table.
It's pretty amazing to dine there for the fact that we are unable to travel far and abroad. What is so magical about this place is all in the details – from the flooring to the finishings of the door, lightings and the utensils. It literally feels like you have just left Singapore and entered a different country. Everything seems to be well-thought out to make customers feel like they are in a Moroccan coffee room.
The Menu
Before heading to Bacha Coffee, I actually did some research to find out what are the recommended food and beverages. With over 200 coffee varieties to choose from, you will be spoilt for choice. One way is to get the waiter to recommend a coffee variety or pastry and the other is to check out Google reviews like I did. And here's what others recommended: 1910 coffee, butter croissants and tiramisu.
For me, I ordered their afternoon coffee set which comprises of hot or iced coffee, a sandwich and two croissants. This tea set is perfect for two people because the coffee comes in a big traditional-looking Arabic coffee pot which can shared among two people. A pot of coffee worth about 3 to 4 cups.
The Bacha Coffee's way of savouring 100% Arabic coffee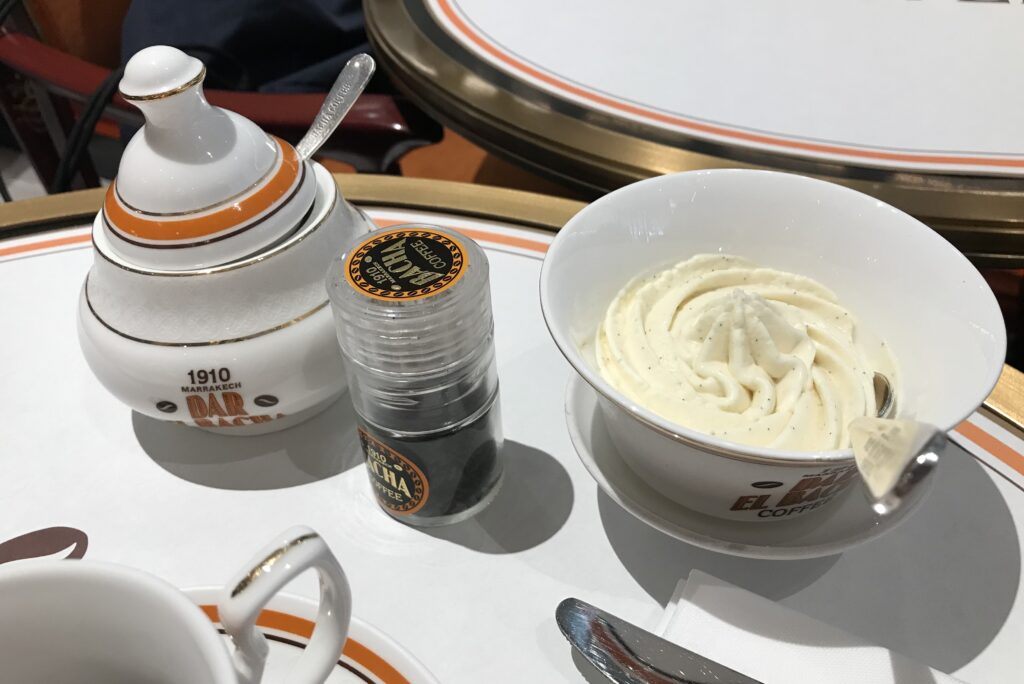 At Bacha Coffee, it's all about the art of drinking coffee. Each coffee pot comes with a bowl of Chantilly cream, vanilla grounds and raw sugar granules. The waiter sensed that it was our first time here so he gladly shared how to go about savouring the coffee. First, add some raw sugar into your coffee. Then, add a dollop of Chantilly cream which will help offset the bitter aftertaste of the coffee. Lastly, sprinkle some vanilla grounds over your coffee. The vanilla grounds elevate the coffee aroma.
The prices of each coffee variety starts from $9. I went with their signature coffee, 1910. It's a coffee brew with a fruity hint and it tastes less astringent than regular coffees. I would say that it is rather diluted. But when mixed with the right amount of cream and sugar, the coffee actually tastes really good.
Must-try Pastry: Croissants
We ordered the 1910 Coffee and Chocolate croissants as well as their pistachio croissant. Bacha Coffee croissants are one of a kind because they taste exceptionally good with the fillings in it. The croissants also come with a caramel sauce or coffee honey dip when you dine at the coffee room. The croissants are served in twos and each pair costs SGD 8 where you can select from their selection of flavoured croissants. However, if you choose to take away, each croissant will only costs you SGD 3. I guess you save a dollar when you do a take-away.
French Toast Sandwich filled with Slow-cooked chicken with Jalapeño Pepper
Most of the diners at the cafe only had coffee and pastries. People rarely come here for their mains or sandwiches because they are highly expensive. Each sandwich toast costs about SGD 22 so it is more worth it if you order their lunch set or afternoon coffee set.
It's a really classy way of thanking the diners.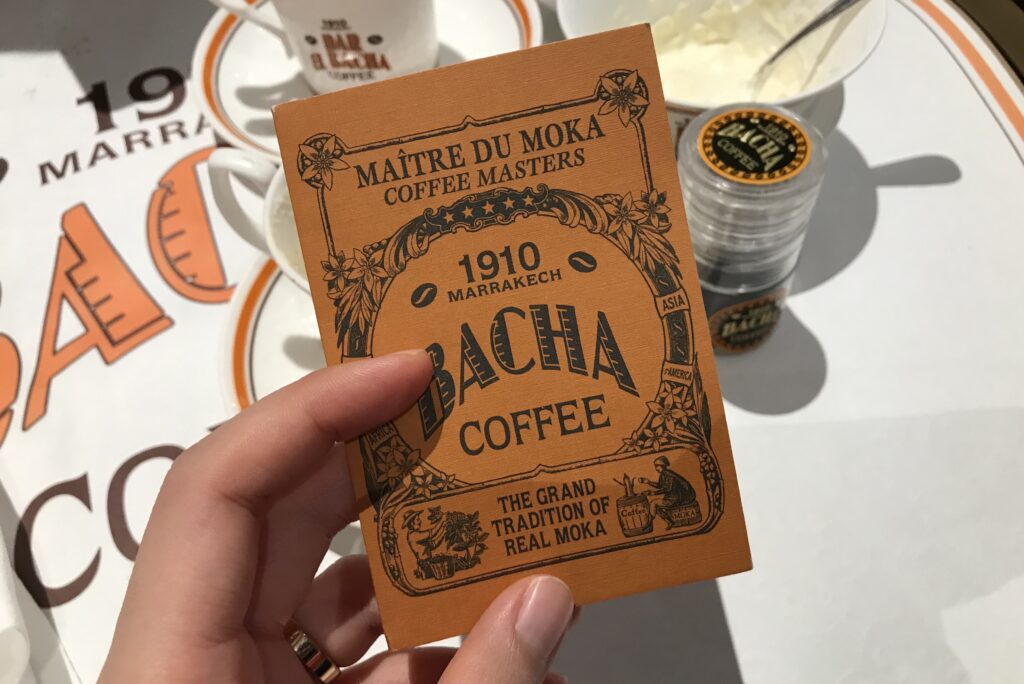 I paid with credit card and they actually returned my card in their classy branded card folder. It's a really personalised and elegant way of thanking customers. A small gesture such as this actually leaves customer a deep impression of the brand itself. Who wouldn't want to be back again?
Their service staff is very attentive. One waiter, in particular, changed the coffee saucer because he accidentally dripped coffee onto it while filling our cups with coffee. And one of them spotted that I stacked an unused plate under my sandwich plate to create more table and asked if he wanted me to clear the plates away. No wonder people just keep coming back to this coffee house and there's always a queue.
Check out my vlog to Bacha Coffee below!