Any affordable good eateries will go straight into my list of places-to-go in Singapore. One of such places is Amber West, which is located right at ITE West College. It is a student-run restaurant under the School of Hospitality in ITE College West. At the trainee restaurant, the students learnt how to prepare some of the best fine-dining meals from experienced chefs who has been working in this industry for years. Hence, the dishes are of fine dining restaurant standard, which is not too bad for a training restaurant.
How Amber West operates?
There are two groups of students working there: the student chefs studying Nitec in Culinary Arts and student servers studying Nitec in Hospitality Operations. The student chefs will be working very closely with their instructor as they prepare gourmet dishes in the open kitchen. Diners can actually have a peek into the kitchen and observe what goes behind-the-scenes.
The student servers, on the hand, will focus on serving the customers. They take orders, prepare cocktails, serve wines and take payments. Their lecturers or instructors are usually at hand to assist or provide immediate feedback to their students.
The restaurant is open to the members of public and anyone can book via Chope, a dining app to secure a table. I've personally been there twice and I enjoyed my dining experience there. Their lunch set starts from $15 and dinner set, from $25. That day was a special themed-dinner so it was slightly more expensive. It's a 4-course French meal which costs $35. Even then, it is still very affordable, considering that they also throw in a glass of wine.
One Night in Paris
That evening, we had French cuisine and the theme was One Night in Paris. To be honest, there isn't anything quite Parisian about the dishes we had but it tastes great so I am not complaining.
To start off, we were each offered either a glass of wine or cocktail. If you are not into wines, you can go for the cocktail which is a sweet concoction of soda, syrup and alcohol. It's a really pleasant drink.
Amuse Bouche
They also served as some warm freshly baked bread along with butter. We had an amuse-bouche before the appetiser. It's scallop with pumpkin purée.
Appetizer
Firs up was the Tian of Crab Meat which comes with guacamole, petit salad tossed with sesame dressing. The crab meat was fresh but I just wish they added some other ingredients like tomatoes for pop of colour.
Soup
We had Vichyssoise, a cream of leek and potato soup which is traditionally served cold. It is topped with sautéed leeks and served with garlic toast. I personally prefer to drink my soup warm so this soup isn't to my liking but it's nonetheless tasty.
Main course
For mains, we could choose between beef or fish. My partner ordered the beef while I went with fish.
The Beef L'Entrecote comes with fries, spring vegetables and jus. The beef was cooked to medium and it was quite tender. I just wish that it was a little less salty.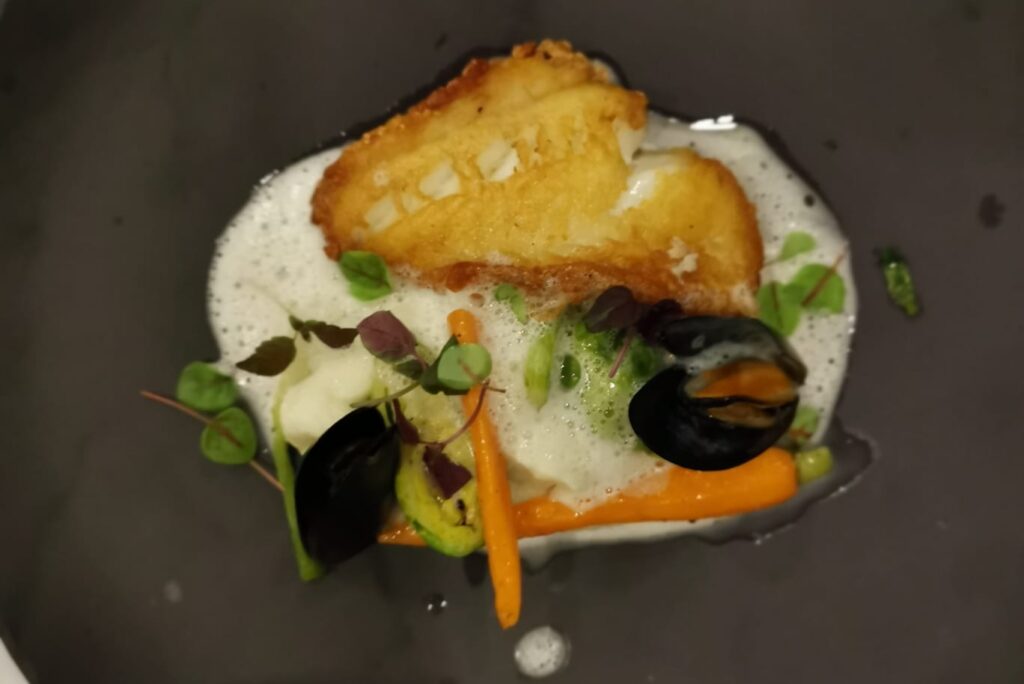 The fish, on the hand, was simply amazing. It was a Cod Fish that comes with truffle mash potato, glazed vegetables and mussel jus. I would rate this a 5 out of 5. The fish was soft, flaky and sweet. And the mash potato was lightly flavoured with truffle oil. The overall dish was well-balanced in terms of flavours and the presentation was quite on point.
Dessert
To end things off on a sweet note, we had Opera cake with vanilla ice cream and coffee sauce. It was a lovely treat because the vanilla ice cream was rather amazing. It may not be one of the best desserts I've tried, but it is really not bad for a cake baked by teenagers.
My Verdict
Overall, it was a pleasant meal experience. Even though the students sounded rather nervous while serving and trying their best to remember our orders, they were overall very polite. They seem a little awkward and may even require some guidance and prompting from their teachers, but we are all once like them, right?
Location
Address: 1 Choa Chu Kang Grove, Singapore 688236
Restaurant is located on level 4 of Block 2 at ITE College West.
Operating hours: Mon: 12-2pm, Tue-Fri: 12-2pm & 6-8pm (Closed on Weekends)