In line with our nation's birthday, McDonald's Singapore has just released their new local-inspired burger called Crispy Hainanese Chicken Burger. It is a collaboration between Ben Yeo, a Mediacorp Artiste and foodie who is also co-founder of the online Singapore brand, Chee Cheong Fun.
This special National Day menu by McDonald's also includes fan the Banana pie, Crisscut fries and Kopi Frappe. These menu items are available starting today.
I get to try it first-hand today and here's my take on their burger.
Crispy Hainanese Chicken Burger
This burger is inspired by one of Singapore's all-time favourite hawker dishes, Hainanese Chicken rice. It's quite difficult to imagine how a burger can taste like chicken rice because chicken rice has got a really distinct flavour.
Does the Hainanese Chicken Burger taste like Hainanese Chicken Rice?
The burger comprises of a crispy chicken patty along with some lettuce, chopped carrots and cabbage. The chicken patty itself is doused with ginger sauce and garlic chili. You will be given a sachet of dark sweet sauce (or Kecap Manis) to drizzle over the patty. I am not sure why they separate this sauce from the burger. It would have been much more convenient for them to drizzle it over the patty for us.
One my first bite, the chicken patty tastes really succulent and crispy. Taste-wise, it was delicious but it tastes anything quite like the Hainanese Chicken rice I had. The ginger sauce and garlic chili were really subtle. I would have love the flavours to be stronger so that it stands out a little more. However, the subtle flavours might be able to please more palates I guess.
Right under the thick succulent patty is piece of lettuce, all sandwiched between soft buns. Overall, the texture and taste is great, almost gourmet to me.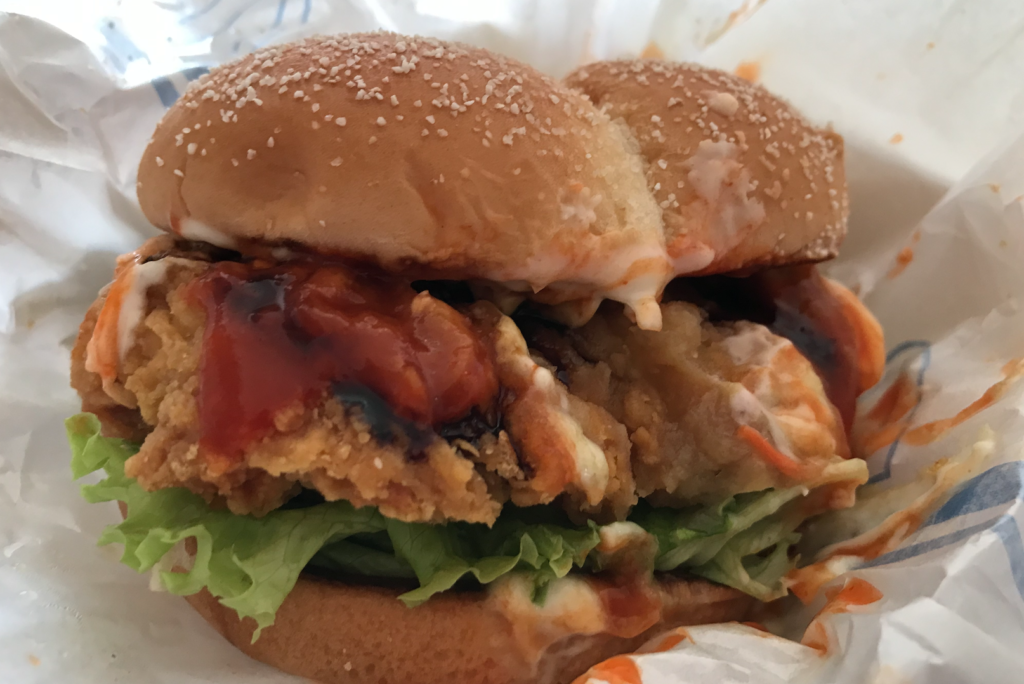 Knowing that Ben Yeo himself is a good cook, I am glad that he managed to elevate the taste of an otherwise regular fast-food burger into something really fine and tasty. It reminded me of the gourmet burger which McDonald's once had.
Worth a try? Definitely.
What about the Crisscut fries?
What could go wrong with fries, especially criss-cut fries? It's tasty but it was a little soggy when I tasted it. It would have been lovely if it has more crisp. I believed that the fries are seasoned with some spices which make them really appetising too.
Kopi Frappe is another palatable drink.
Like the burger, I find that the Kopi Frappe is also a little tone down. There's a lot more milk content in the Frappe which has somewhat diluted that 'Kopi' taste. Our local Kopi served at Kopitiams and Hawker centres usually have this 'gao' or strong roasted coffee flavour. However, the drink itself is really smooth and pleasant. If you are a fan of Starbucks Frappe, you might enjoy this Kopi Frappe too.
Here comes the banana pie.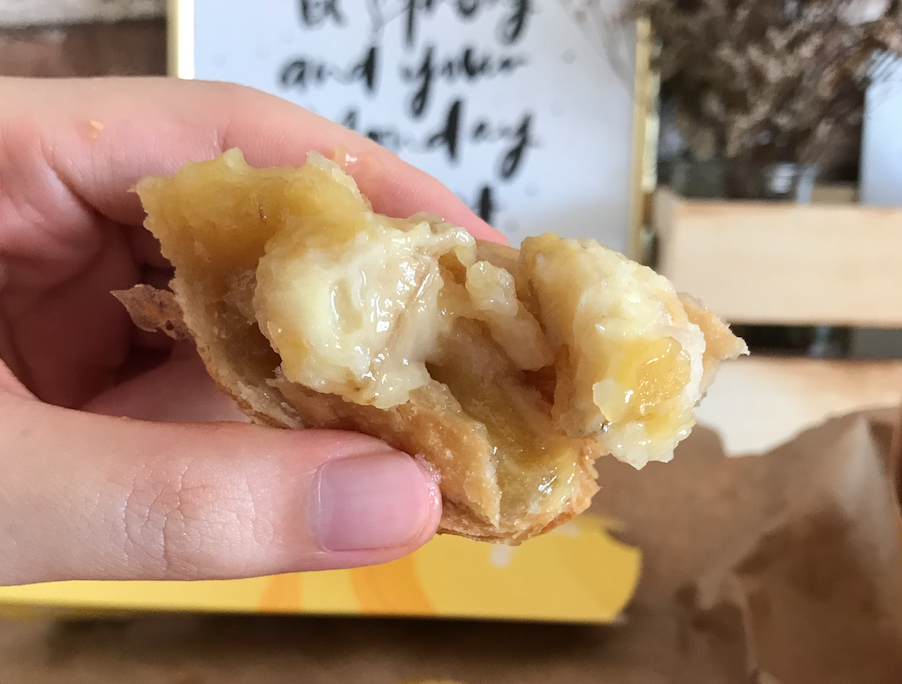 I was actually pretty excited for this one and most Singaporeans too. In my excitement, I actually forgot to take a proper picture of the full banana pie itself. So, that explains why I was holding a half-eaten banana pie which didn't look very appetising.
It's nice but I just find it a little artificial, similar to the blueberry and cheese pie. Their apple pie is still the best thus far. I can taste the chunks of banana in it but I just find it a little rubbery for some strange reasons. Otherwise, it's not too bad.
How much do they cost?
Prices for the Hainanese Chicken Burger starts from $6.60 for a la carte and $8.30 for Extra Value Meal. Kopi Frappe comes in small ($4.30) and large ($4.70) sizes while the price of the banana pie starts from $1.40. And the crisscut fries is $3.50 for small and $3.80 for large.
The Crispy Hainanese Chicken Burger, Crisscut Fries and Banana Pie will be available after breakfast hours for takeaway and delivery in all McDonald's outlets, Drive-thru, McDelivery, GrabFood and Foodpanda for a limited period of time only. The Kopi Frappe will be available all day.
Check out other National Day Promotional meals here too.