With more than 7,000 islands offering a unique travel experience, the Philippines is a travel destination unlike any other. Whether it's relaxing on the beaches or at the mountains, enjoying the vibrant urban life, or immersing in indigenous culture, there is always something unique to discover or do in the Philippines for every type of travellers.
As the Philippines Department of Tourism (DOT) prepares to welcome international visitors once more, it is also offering new activities for travellers. Additionally, there will be infrastructure developments such as the improvement of both the Philippines' domestic and international airports and new roadways to boost accessibility.
The Philippines Department of Tourism has also been awarded a SafeTravels Stamp by the World Travel and Tourism Council (WTTC) in recognition of its adoption of "health and hygiene global standardized protocols" that ensures safe travels during the COVID-19 pandemic.
Hopefully, when the travel bans and restrictions are finally lifted off, we can travel to the Philippines with greater ease.
In the meantime, to whey your travel appetite, here are eight uniquely Filipino activities and experiences that you can look forward to when you visit the Philippines.
1.Cycling around Intramuros in Manila on a bamboo bike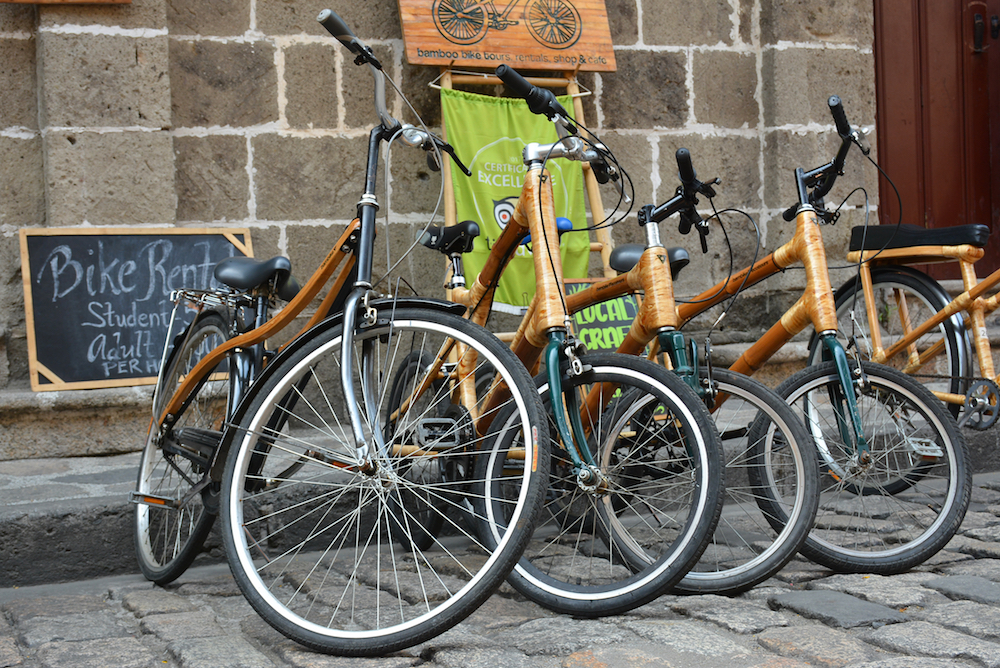 Cycling is a cheap and eco-friendly mode of transport to get from one place to another in the Philippines. You can rent a sustainable handmade bamboo bike from Bambike Ecotours and explore the historical sites of Intramuros. They also offer cycling tours where you will be led by their in-house guides called Bambassadors around the old quarters of Manila.
2. Zoom through Banuae's Winding Roads on a wooden bike
Up in the mountains of Banaue (a region up south of Manila), you can try out the Ifugao mode of transport – hand-carved wooden scooters that can reach up to speeds of 50 kilometres an hour. These handcrafted bikes are a testament to the indigenous tribe's wood carving skills and ingenuity, as they are made of scraps of wood and pieces from old rubber tires. This is an adrenaline-fueled way to enjoy a picturesque view of the centuries-old Banaue Rice Terraces, which their ancestors had carved by hand on the mountainsides.
3. Test your balancing skills on bamboo stilts in Cebu
The Kadang-Kadang (Karang) or Bamboo stilts allows you to view your surroundings from a higher vantage point. Walking on bamboo stilts can be a really fun thing to do! You can test out your skills on balance and speed by hopping onto a pair of stilts and participating in a team race. While it is considered a childhood game through generations, it has been recognized as a traditional Filipino sport in 1969.  
4. Go Off-road on a Lahar adventure in Pampanga
The Mount Pinatubo eruption in 1991 has caused devastation to much of Central Luzon, but locals have found a way to utilize the massive destruction and turn it into a destination for extreme sports enthusiasts. Travellers can book an off-road tour on a four-wheel-drive or motorcycle to ride through the streams and the sandy terrains at one of the most unique landscapes in the Philippines.
5. Relax in a Kawa bath at Antique
The Kawa or giant cauldron is traditionally used to cook a fiesta fare in the Philippines, but in Antique province, it is used as a bathtub. You can go for a relaxing and rustic bath experience at the mountainside resorts after a trek in the woods of Tibiao in Antique. The staff will prepare a refreshing hot bath in a kawa for you, with water heated over a wood fire and scented with aromatic herbs and flowers.
If you want to experience another form of relaxing therapy, you can visit the Tibiao Fish Spa where you can your their feet in a pond of fishes where they would nibble on and exfoliate your dead skin cells.
6. Catch a glimpse of the Philippine Eagle in Davao
The Philippine Eagle is regarded as the Philippines National Bird. It is the largest of the extant eagles in the world in terms of length and wing surface, and it is now considered critically endangered. They are currently protected in sanctuaries such as the Mount Hamiguitan Range Wildlife Sanctuary in Davao.
Mount Hamiguitan is a UNESCO Protected Highland Nature Reserve and a UNESCO World Heritage Site which is home to a diverse range of plant and animal species. You can go on a trek through the Nature Reserve and be rewarded by a treasure trove of biodiverse sightings which includes a chance to see the majestic Philippine Eagle in flight.
One can also visit the natural science museum that can be found within the premises. For a quick glimpse of the eagles, you may also opt to visit Philippines Eagle Center, a private sector managed rainforest in Davao City that shelters and breeds Philippine Eagles in captivity.
7. Learn the Indigenous art of weaving in the Cordillera Fabric Circuit
The upland tribes of the Cordillera Region have a rich culture that is woven into their fabrics. You can participate in a circuit tour where you will be able to learn more about the indigenous art of weaving through stunning interactive and informative displays of the fabrics that are produced in the region.
The fabrics are made using cotton and other natural fibres that are woven and weft into the traditional designs on looms that have been passed down through generations. The tour also includes trips to weaving villages, museums and souvenir shops where you can purchase handmade works of art that are sewn into stunning articles of clothing or incorporated into decorative pieces for the home.    
8. Join an organic green tour circuit
This circuit traces the Philippines food roots through a combination of organic farm tours and traditional meals that use freshly harvested produce. The tour runs through the Baguio-La Trinidad-Itogon-Sablan-Tuba-Tublay (BLISTT) area with two farm tourism destinations, namely the Benguet Agro-Eco Farm in Sablan, and the UM-A Farm in Tuba. Some of the tour activities are pick-and-pay and the opportunity to participate in a traditional community celebration hosted by the farmers held around a warm bonfire amid the fresh mountain air.
Stay safe and get vaccinated. I am remaining hopeful that we will be able to travel again freely soon.
Other information
Get the latest updates and travel advisories about the Philippines from their website or download the Travel Philippines app at the Google Play Store and Apple App Store.