It's been 10 years since H&M unveiled its very first flagship store at Orchard Building on 3 September 2011. In celebration of this milestone achievement, H&M Singapore has collaborated with local artisans to offer a series of exciting in-store and online offerings for the month of September. This is also done in hopes to give back to our local community by providing a platform for homegrown artists to showcase their designs and artwork.
What are some special in-store offerings to look out for at H&M?
1. 10 by 10 : Shop for locally-designed craftwork from 10 different designers
H&M has collaborated with 10 Singapore-based artists to create limited edition 10th anniversary pieces capturing the H&M's spirit. Their products are mostly eco-friendly and are made on-demand to minimise wastage. Customers can view the actual products at H&M Orchard Building and make a purchase by scanning the QR code available at the display section.
Some of the local creatives include Nathan Yong (a designer who creates items made from offcut zinc plates, onyx and fabric), WooHung (an artisan who uses natural materials to make jewellery) as well as the Head of State Millinery (who specialises in making sustainable statement hats).
2. Print on Demand: Complimentary limited edition graphic printing service
H&M collaborated with four female illustrators to create exclusive graphic designs for its 10th anniversary. These limited edition graphic designs can be printed on any garments bought at H&M. Customers can select from a range of abstract or figurative designs and get them printed for free on their t-shirts bought from H&M in the month of September.
This printing service is only available from 3rd September to 30th September 2021 at the H&M flagship store at Orchard Building. You will need to purchase a H&M printable item, which is preferably a light-coloured shirt.
3. The Perfect Serve : Enjoy a treat from the Pop-up cafe serving up local flavours with a creative twist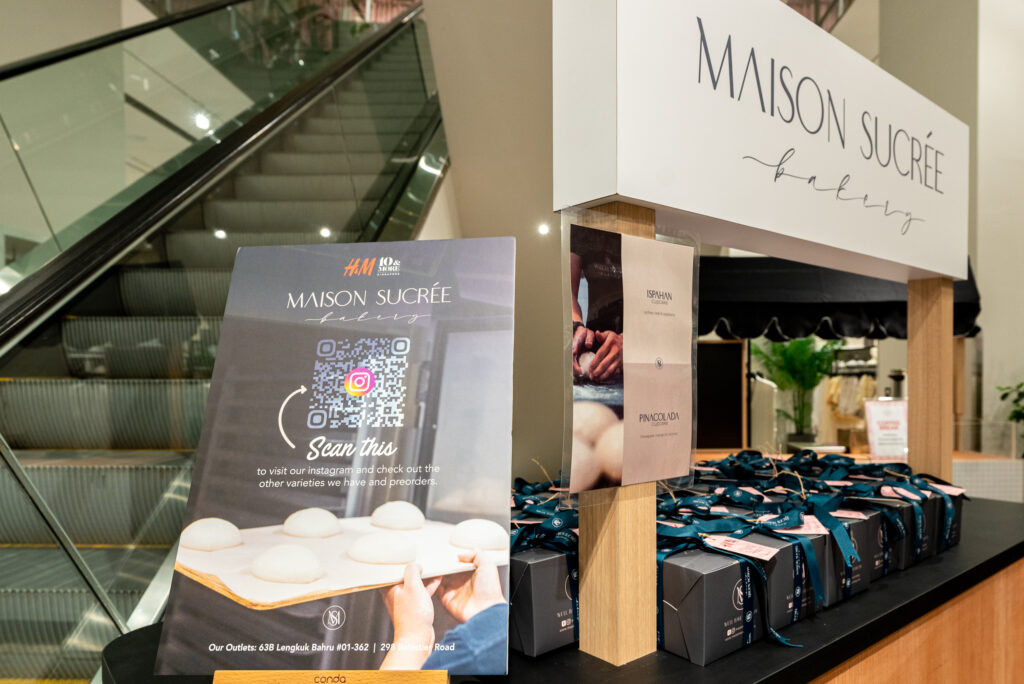 With every $50 purchase at H&M, you can redeem a treat from the food carts found inside the flagship store. You can choose either a bottle of mocktail from GudSht, cupcakes from Maison Sucrée or coffee from Coffee Break.
4. Drop off your unwanted clothes at H&M and get, not one but two 15% discount vouchers!
To encourage more people to recycle their clothing, H&M is giving out two 15% discount vouchers for every bag of garments recycled. You can simply drop off their unwanted garments at any of the H&M outlets in Singapore. It's time to do some spring cleaning and go through your wardrobe to see if you have any clothing which you no longer want to keep.
5. Time Capsule: Walking down the memory lane with H&M
The flagship store windows outside the flagship store have transformed into a beautiful display of iconic pieces from the 10-year lookbook of various H&M collections. The display also showcases H&M highly-anticipated annual designer collaborations and Conscious Exclusive collections through the years.
So grab a buddy and plan for a shopping trip together at H&M!