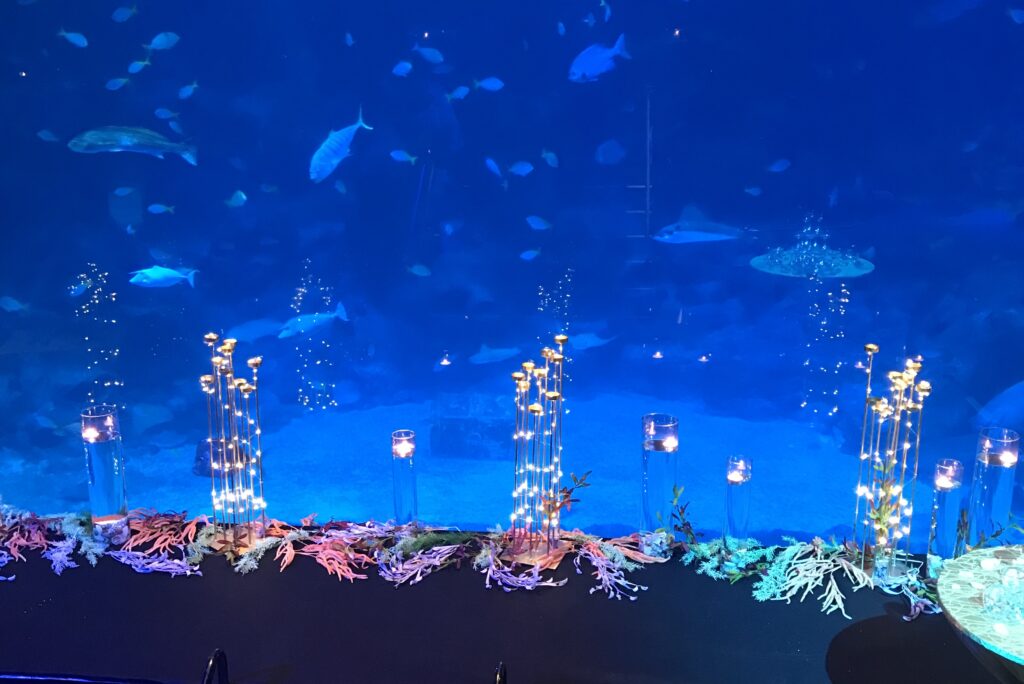 Last weekend, I attended my first ever post-COVID wedding dinner right after Singapore has gone through a series of lockdowns and heightened alerts since the pandemic started. It's also the first wedding I attend after my wedding.
Adapting to this new norm of practising social distancing takes time as we have to get used to the stricter rules that govern us. While the government has relaxed some of the rules and allowed more people to attend weddings, there are still strict measures which we have to follow.
What are some of the changes to weddings? (as of September 2021)
Based on what I've observed during the recent wedding I've attended at the Ocean Restaurant, here are the 7 measures which the venue practises.
Guests can only be seated in groups of 5 at the table.
Guests also cannot intermingle with guests seated at other tables.
Seating areas must be segregated into zones and there should be mo mixing between the zones.
All guests must be either vaccinated or tested negative for the Antigen Rapid Test (ART).
Strictly no loud congrulatory cheers like 'Yam Sengs' or singing at weddings
Guests must arrive and leave the venue at staggered timings.
Bride and groom can go from table to table to take photos with guests after dinner.
I find that the current measures are not too bad. The only downside is the long waiting time because of the staggered arrival and departure timings, we have to wait for all guests to arrive before the dinner could start.
Since no alcohol can be served after 10.30 pm, the dinner ended quite promptly and we had to leave the venue as soon as it is our turn to leave. Guests are not allowed to hang around at the venue right after dinner.
With these measures, wedding dinners are kept really simple and short which, to me, is a great thing. Personally, I did not enjoy long wedding dinners and being seated with random people whom you do not know.
What are the wedding dinner dishes we tried at Ocean Restaurant?
It was my first time dining at Ocean Restaurant and I must say that the experience is rather unique. The restaurant itself is dubbed as Southeast Asia's first underwater dining experience. But other than having the view of a large aquarium right in front of you, there's really nothing much about the dinner or venue itself. The venue wasn't that luxurious as I thought it would be. The wedding itself was held at the event hall comprised of tiered steps where the tables are placed. There's a mini makeshift stage at the lowest tier.
Some dishes were stellar but some tasted average. Overall, the food is comparable to most reputable hotel wedding dinners. But I can't deny the fact that their wines are awesome. I had the fine-textured white wine which tasted so smooth on the palette.
Instead of the typical 8-course wedding dishes, there are only 7-courses which is great because many guests tend to overeat during wedding dinners.
1. Resorts World Appetizer Delight
For appetizers, we had scallops in sesame sauce with fruits, roasted pork belly, smoked duck seasoned with osmanthus in honey sauce, jellyfish in handmade sauce and fried beancurd rolls. This dish was rather exquisite.
2. Five treasures Lobster Thick Soup
For soups, we had diced lobster, shredded abalone, crabmeat, conpoy and black fungus. It tasted no different from the traditional Shark's fin soup which is usually served during Chinese wedding dinners in the past. These days, most restaurants don't serve Shark's fin due to environmental issues.
3. Braised 10 Head Whole Abalone and Chinese Mushrooms with Broccoli; Crispy Roasted Chicken with Crispy Garlic and Sesame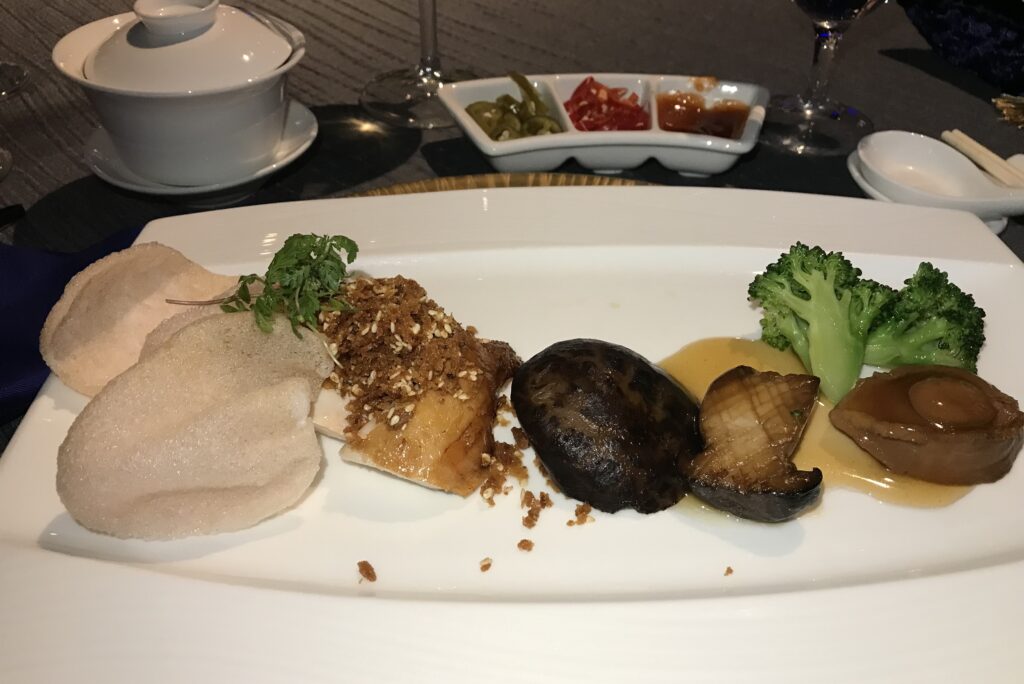 I like the fact that they portioned all the dishes and plate them nicely on the plate. They are usually served on a huge platter and diners have to scoop a portion onto their serving plates for themselves. So I guess the pandemic and all the measures imposed had unintentionally improved the wedding dinner experience.
4. Steamed Live Dragon Garoupa with Superior Light Soya Sauce
This is another classic Chinese wedding dish and it was executed pretty well. It just felt a little weird consuming fish in front of a huge tank of fish. According to the restaurant, the seafood served are sustainably sourced.
5. Wok-fried Scallops in XO sauce; Cereal Prawn Balls in Thousand Island Sauce; Seafood Fried Rice with Perigord Truffle and Pumpkin Cubes
The last savoury dish did not quite meet up to my expectations after trying out the first couple of dishes. The rice was a little bland and the cereal prawn ball tastes cheap due to the milk powder. Overall, this dish wasn't on par with the previous dishes and I was quite disappointed with it.
6. Red Bean Compote with Osmanthus, Wolfberries and Almond Jelly
The dessert could be better too. It looked really delicate but the taste of it wasn't that fantastic. I would have preferred mango puddings as dessert.
7. Resorts World Sentosa Wedding Petit Fours
The petit fours are basically just heart-shaped chocolates served to each guest.
Overall, the dinner at Ocean Restaurant was good but not exactly exceptional. The Ocean restaurant has a 4 out of 5-stars rating which I, too, would also give a 4-star rating. Their service is not too bad but it's a pity that the dishes didn't quite excel.
Location
Ocean Restaurant
Address: Equarius Hotel, West B1M Carpark
Operating Hours: Thursday – Tuesday (Closed on Wednesday, except eve of and on Public Holidays)
Lunch: 11.30am (1st Seating); 1.30pm (2nd Seating)
Dinner: 6pm (1st Seating); 8.30pm (2nd Seating)