Have you been dropping more hair lately? And wonder if that shampoo of yours in your bathroom really works? I got you.
Like you, I was suffering from hair fall and other scalp issues. I was looking for a shampoo or hair product that can not only cleanse my scalp but is also nourishing for my hair and scalp. It is even better if it could be enriched with the necessary ingredients to boost hair growth. After trying out many shampoos, I think I may have just found a shampoo that I've been looking for.
This shampoo which I've been using is a Korean Herbal Shampoo by Saeangmeori. It's called the oriental herb Euyomi liquid shampoo. I've been using it for about 2 weeks now and noticed that my hair fall has reduced with each consistent use. Results have been promising and I hope to continue using it for another month or so, to see if it really improves my scalp and hair condition. It is also quite a highly raved shampoo on Shopee.
Choosing the right type of shampoo for your hair is so important and here is why.
Why regular shampoos might not work?
When it comes to hair and scalp issues, it is always best to use a gentle yet effective shampoo that does not contain harsh ingredients that irritate the scalp. Over the years, I realised that most drugstore shampoos contain chemicals that plugged your hair follicles. As your scalp aged, hair growth starts to slow down and with a slower cell turnover rate, the hair follicles on your scalp tend to get easily clogged without proper exfoliation. That explains why it is important to use the right type of shampoo that addresses your hair and scalp condition.
What is so special about herbal shampoos?
One type of shampoo that works generally well on most scalps is herbal shampoo. They usually contain natural extracts and other ingredients that encourage healthy hair growth. Did you realise that hair and scalp boutique centres often used treatment products that contain oriental herbs? I've been to such treatment centres and their products worked well for my scalp but each treatment session can cost up to about a hundred dollars. In the long run, it is not very cost-effective. Besides, they would also recommend you to use the right shampoo in order to alleviate your hair and scalp problems. Instinctively, I knew that it is all about using the right shampoo. Maybe a herbal shampoo?
What are the benefits of Saeangmeori Oriental Herb Eoyumi Liquid Shampoo?
The three main benefits of the Saeangmeori shampoo are:
Prevention of hair loss
Reduction of dandruff
Supplication of nutrients to the scalp
The Saeangmeori Oriental Herbal Shampoo contains a myriad of oriental herbal extracts that helps in achieving the aforementioned benefits. Some of the herbs the shampoo formula contains are Iris, Poria Cocos, Cornus, liquorice, Rehmannic Glutinosa, Dioscorea powder, Moutan, Matrimony vine, and Thujae Orientalis folium. These herbs are known for their hair and scalp benefits. Dioscorea powder, for instance, is actually a wild yam. It is rich in vitamin B which promotes blood circulation in the scalp.
One other key ingredient in Saeangmeori's haircare products is Panax Ginseng Root Extract. It has anti-inflammatory, antioxidant and anti-ageing effects. In addition, it promotes hair growth and strengthens hair follicles.
How to use the Saeangmeori Oriental Herb shampoo?
Less is more. All you need is just one pump of shampoo for shoulder-length hair. The formula has a mild pleasant scent. Best of all, it does not leave your hair smelling like Chinese herbs which most other herbal shampoos do.
The product formula is this dense dark brown liquid that lathers quite well. Before applying to your scalp, it is best to lather it up with your palms.
My Verdict on Saeangmeori shampoo
On my first use, my hair dropped more than usual but it is expected because I was switching products and it takes time for my hair and scalp to get used to the product. Thankfully, for the second and subsequent washes, my hair fall has decreased. To me, the Saeangmeori Oriental Herb Eoyumi Liquid Shampoo acts more like a balancing shampoo that is gentle on the hair and scalp.
I also realised that my scalp now is no longer oily. After each wash, my hair feels light, soft and moisturised. I personally find that you don't really need to use a conditioner when you are using a good balancing shampoo.
Saeangmeori Complete Hair Care bundle (500ml and 60ml)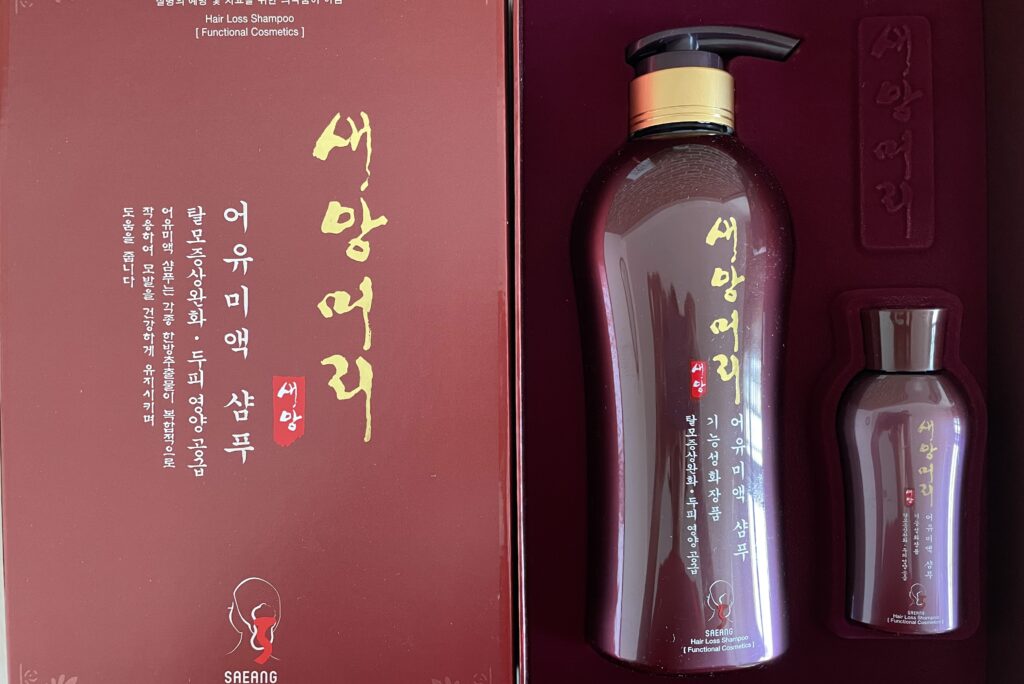 You can purchase the 500-ml shampoo bottle on its own or the haircare bundle pack which comprises a 500ml-shampoo and a travel-sized shampoo bottle. Each 500ml-shampoo can last you for at least 4 months.
I find the travel-sized shampoo bottle really handy because you will never know when you need it. Be it for a staycation or a short trip away from your home, it comes in really useful. After you have finished the bottle, you can refill it with more shampoo from the bigger bottle.
Other Saeangmeori haircare products
I also tried the other two haircare products by Saeangmeori. I personally enjoy using both their Oriental Herb Eoyumi treatment and Boyun essence. Out of the two, I would highly recommend their Boyun essence for daily use because it really adds a little shine to your hair by smoothening out your manes. It is great when you are preparing for a date night out with your besties or partner.
Saeangmeori Oriental Herb Eoyumi Treatment (500ml)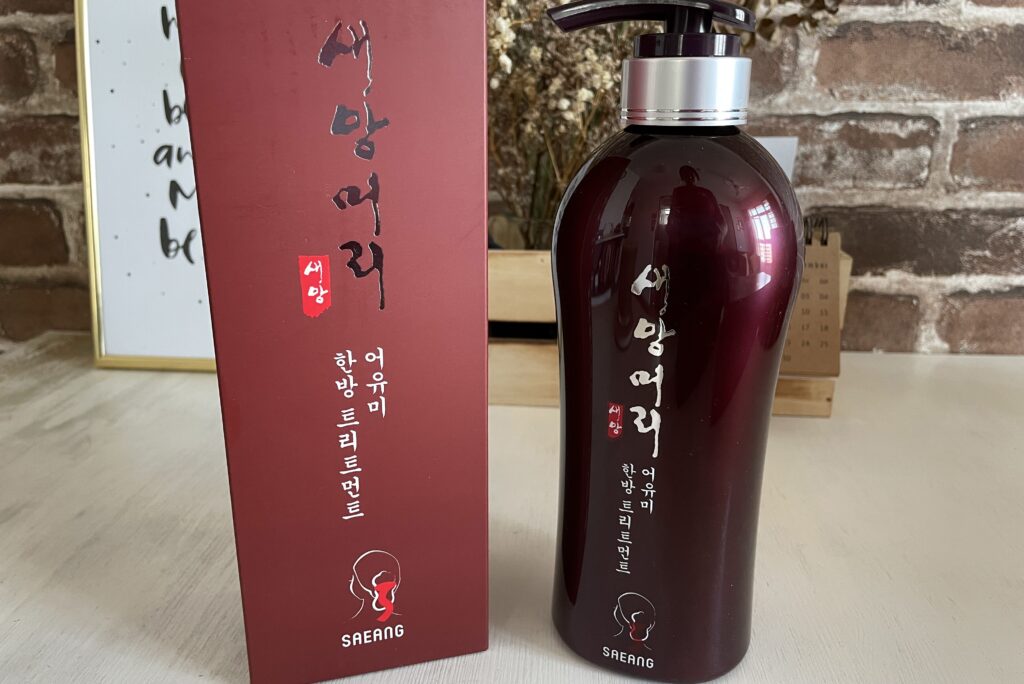 The Saeangmeori Oriental Herb Eoyumi treatment protects hair and keeps it soft by repairing and treating hair that is damaged due to colouring, heat styling and ultraviolet radiation.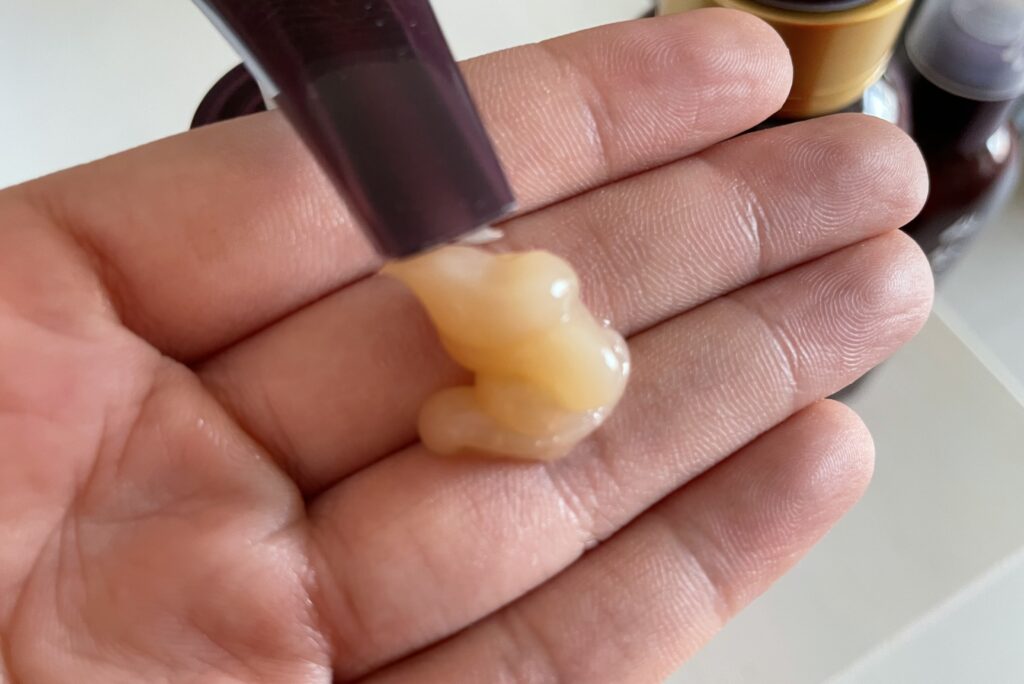 Leave the product on the ends of the hair for 5 minutes and wash them off with cold water to seal the hair cuticles.
I recommend using this once a week or once every two weeks. I find this hair treatment to be salon-grade because it is rather intensive and effective in treating the hair. But if you do have very dry or badly damaged hair, you might want to use it twice a week.
Saeangmeori Oriental Herb Boyun Essence (200ml)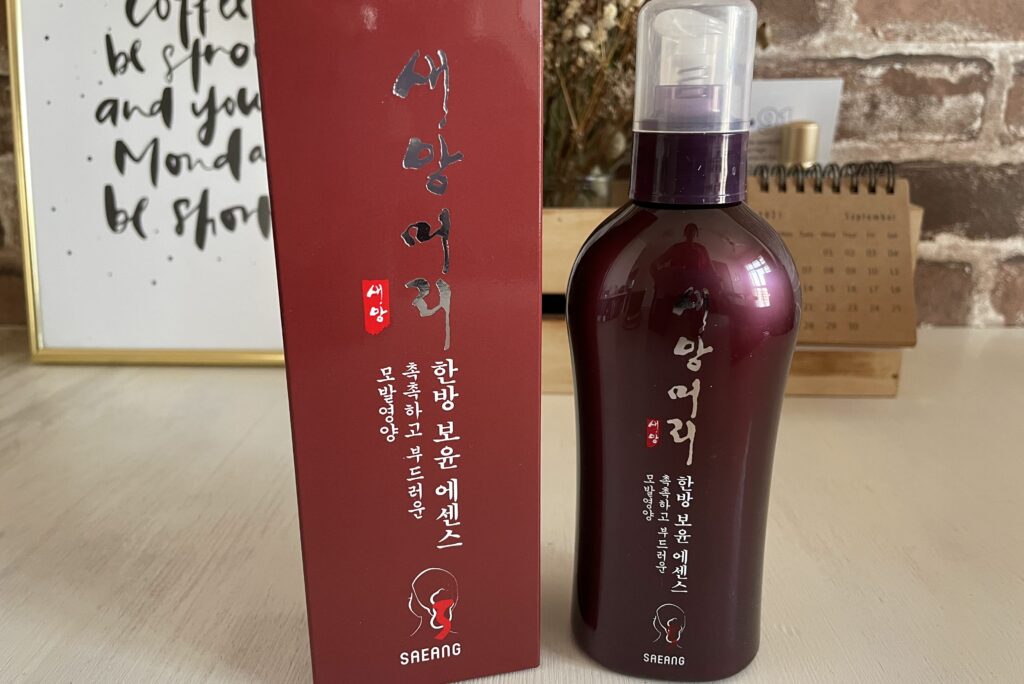 The Saeangmeori Herbal Boyun essence protects your hair from the outside by creating a thin layer of coating and hair cuticles. It contains fresh herb extracts to keep hair healthy. It also includes amino acid glycine, alanine and lysin.
You will find that your hair looks shinier after applying this product as it contains Phenyl Trimethicone, a type of silicone.
Where to purchase Saeangmeori products?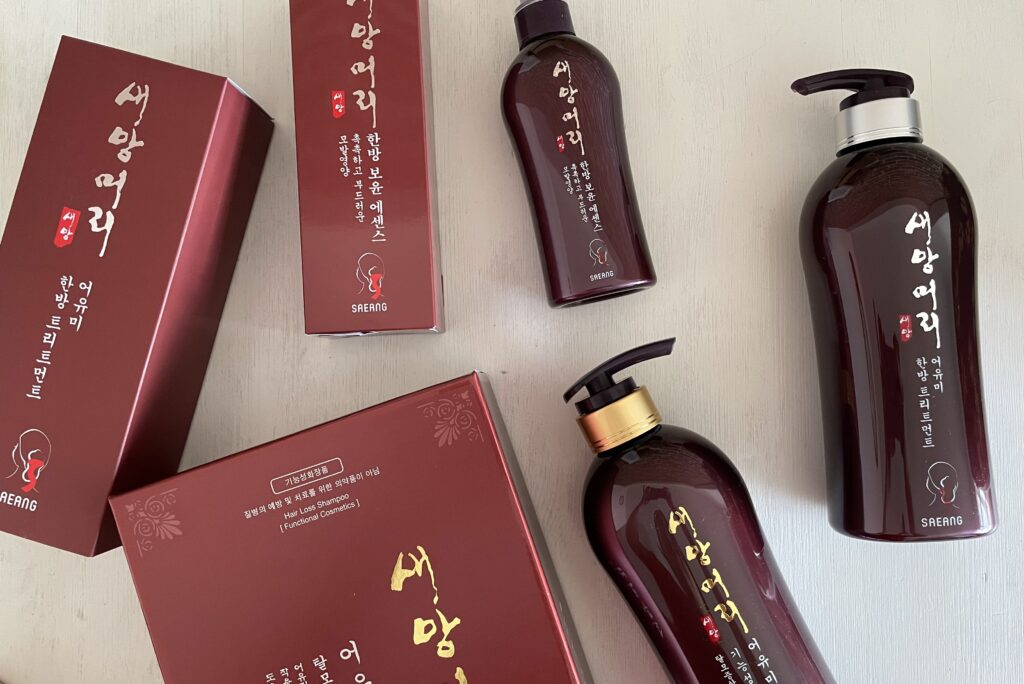 Available at Lazada , Shopee and Qoo10. You can read their reviews across the e-commerce sites too. For more information, you can also check out their website here.