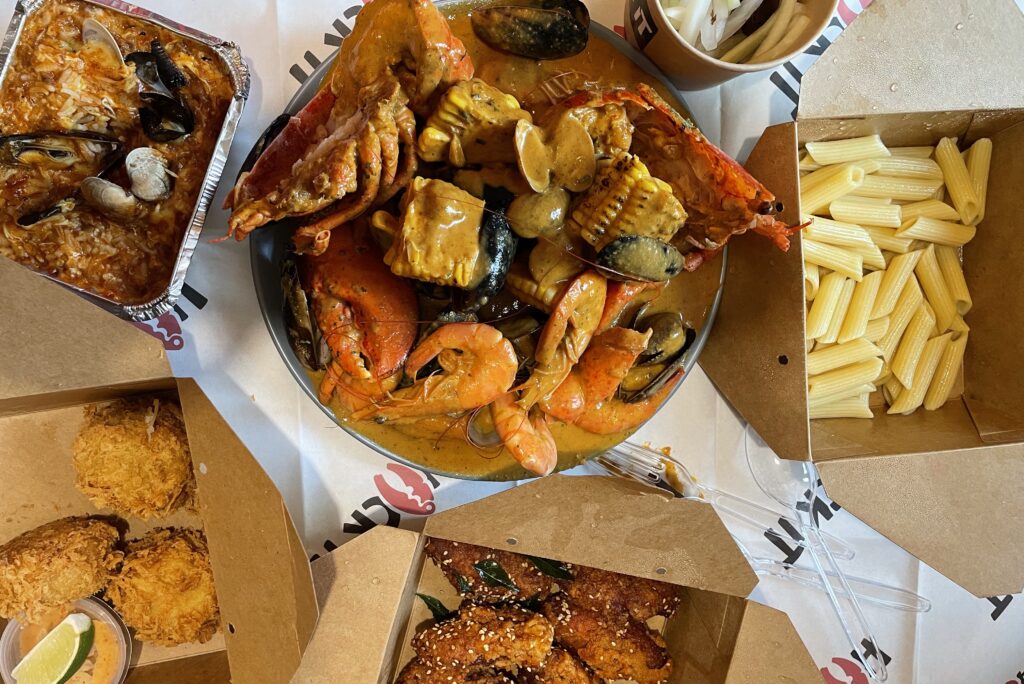 The virtual dining concept may be new here in Singapore but not in the United States. It is simply restaurants or food companies that focus solely on deliveries. They probably only have a kitchen to prepare the food but no dining or seating areas for people to dine. And a few days ago, I got to try out this virtual dining concept by HACK IT. The experience was surprisingly awesome.
HACK IT
HACK IT is the first virtual concept by JUMBO Group of restaurants. It follows a no dine-in, virtual concept delivering affordable, high quality live and fresh seafood to diners' doorstep. They prepare Asian-style seafood-in-a-pack where you can pour them out on a large sheet of oil-proof table cover and dig it.
Each delivery comes with a pack of the HACK IT table cover, 2 bibs, 2 pairs of disposable plastic gloves, napkins and disposable cutlery. You can literally have dig into this during a picnic and enjoy this seafood feast anytime, anywhere.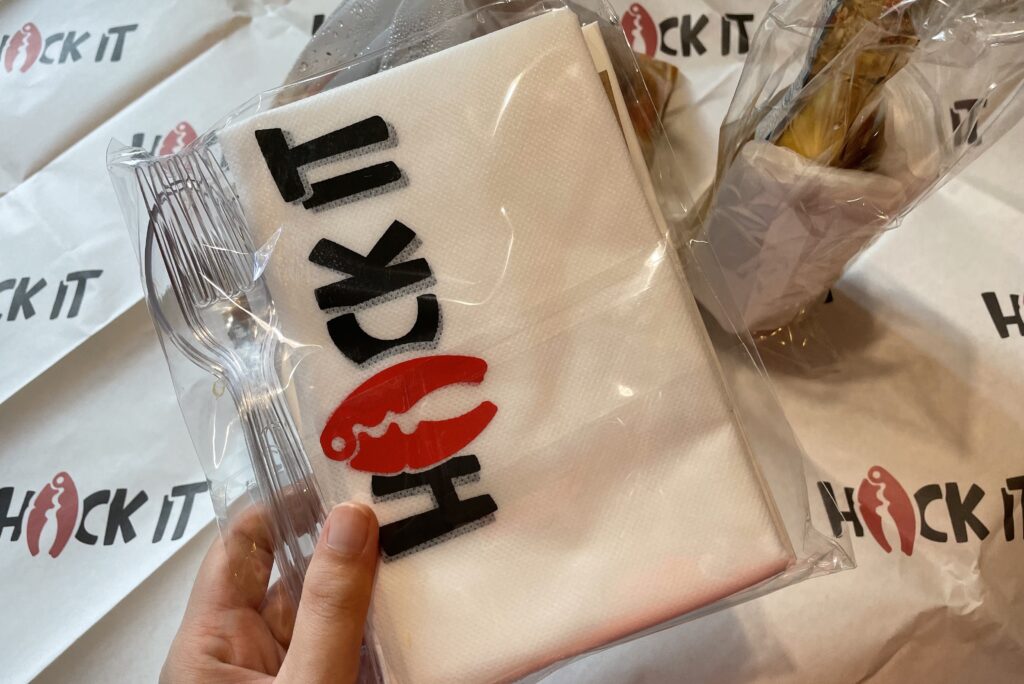 Once you are armour up with their bibs and gloves, it's time to unbag the seafood loot. All you need to do is to press the tab to release the zip tie on the bag, then pour the seafood on the table cover.
They also curated a HACK IT music playlist on Spotify where you can enjoy music while digging into the yummy seafood and dishes. The playlist features the latest radio hit songs.
Seafood In A Pack (Prices from SGD 42 to SGD 108 )
There are four curated speciality packs which prices start from SGD 42. You can choose either Xiao Long Xia, crabs or lobsters. I chose the Lobster pack which comes with Live Boston Lobster (500grams), Clams(100g), Mussels (100g), Live Prawns (200g) and Pearl Corn (100g). For SGD 66, the Lobster seafood pack is very worth it. The seafood is very fresh and meaty too.
Select a Asian-Style Sauce
You can also select an Asia-style sauce to go with the seafood. There are currently 5 savoury sauces to choose from – Chilli Crab, Black Pepper, Mala, Creamy Butter and Laksa sauce. I am so glad that I went with their new Laksa sauce because it pairs so well with the sweetness of the seafood. It is an in-house blend of aromatic spices and coconut milk. It tastes like laksa soup but thicker.
Customizing your seafood pack
You can also opt to upsize your seafood pack by ordering seafood add-ons like Live Dungeness Crab, Live Alaskan Crab, Prawns with other ingredients like assorted mushrooms, broccoli, lotus root, potato and luncheon meat. If you prefer, you can also customise your own seafood pack by selecting the type of seafood and ingredients you want to go into the pack.
Each seafood pack also comes with a side of staples like penne pasta, instant noodles, steamed rice or garlic fried rice. You can toss them right into the sauce with the seafood or have them separately.
Lobster In A Pack(SGD 66) with Laksa sauce
I love the prawns, clams and mussels in the seafood pack. The lobster is huge but it is not as meaty. The sauce is definitely the star for me because it brought out the sweetness of the seafood. The laksa sauce also pairs well with the staples like Penne pasta.
HACK IT's Unique Side Dishes
To complete your seafood feast, you can also order some sides to go along with the seafood. Their must-order delicious are the Seafood Baked Rice with Chilli Crab sauce, Crab in the Cake and HACK IT Mid Wings.
Seafood Baked Rice with Chilli Crab Sauce ($9.80)
What took me by surprise is their Seafood baked rice which is drizzled with Chilli crab sauce. They baked the aromatic fried rice with assorted seafood, mozzarella cheese and tangy signature chilli crab sauce. This combination of ingredients is incredibly tasty.
Crab in the Cake (SGD 12)
This is another stellar dish that wowed everyone at the table. The succulent real crab meat is mixed with potatoes, broccoli and onions to form the batter. It is then shaped individually by hand and deep-fried with a crispy layer of bread crumbs. It's like a croquette so to speak. Even though it is delivered over, the outer layer is still crispy. It comes with a Nyonya Sauce Mayo dip and with a small wedge of lime to cut through the greasiness of the deep fried crab cakes.
HACK IT Mid Wings (SGD 9.90)
Each mid wings is coated with HACK IT's sweet and spicy sauce and they taste so delicious even though it is a little cold by time it arrived at our doorstep. The chicken wings still taste so tantalising and crispy on the outside.
Yaya Payaya Radish Salad (SGD 5)
To nullify the effects of the fried food, you should order their Yaya Papaya Radish Salad. It consists of sliced green papaya, pickled white radish, plum sauce and crushed peanuts. It's sourish and appetising. This could be eaten as an appetizer before the meal.
Overall, it was a very pleasant meal. It is one of the best deliveries we had thus far. If delivered food can still taste this good, I am sure it will taste even better when they are served right out of their kitchen. If you are looking for seafood deliveries, be sure to consider HACK IT.
Promocode HACKS4DEENISE
Use my promo code HACKS4DEENISE to enjoy a free delivery for online orders or 20% off a la carte items for dine-in and takeaway at their Pop-store which is located at 20 Upper Circular Road, #B1-48, The Riverwalk, Singapore 058416.