Have you seen those gamers or YouTubers with those cool-looking lightsaber-light backlit lightbars at their backdrop? And sometimes you wonder how did they create such a cool atmosphere with the mood lighting? You can now easily experiment with these mood lighting using Nanoleaf lines. They are not only easy to use and install but they are also highly customizable. Imagine having lighting that comes in multiple colours and can react to the beat of the music? I wonder why I have not heard about Nanoleaf products earlier.
Nanoleaf, a smart decor and lighting company, has just launched their newest generation of mood lighting called Nanoleaf Lines. It's also the world's first customizable backlit light bars for home, entertainment and hybrid workspaces. With Nanoleaf lines, you can easily turn your living room into a club or cinema with a touch of a button.
Why you should get Nanoleaf lines?
Nanoleaf lines are smart backlit colour-changing LED light bars that feature a stunning RGB illumination in a modular linear form. Since the light bars are modular, you can create any formations with the light bars and have them stuck to the wall or ceiling.
1. They are highly customizable.
The modular light bars connect at 60-degree angle increments, creating a sleek linear layout. You can use the light bars to form grand geometric shapes and even ceiling setups. You can form cool shapes or alphabets with light bars.
2. The lights can sync with the music.
Each light bar can be painted with two different colours at once. The light bars can paint spaces with mesmerizing lighting scenes which can be controlled via the Nanoleaf app. It also comes with 19 pre-set dynamic scenes which includes 7 Rhythm scenes that intuitively react to music. Yes, the light can follow along to the rhythm of the music playing in the background!
Nanoleaf Lines are able to sync with a variety of tunes in real-time to create dynamic colour animations, with colours dancing and pulsing along to the beat of the music.
3. Create your own lighting scene or pattern.
There are thousands over new lighting Scenes found in the Nanoleaf app which you can play with. You can also upload on your Scene using the Scene Creator function which includes over 16 million colour options. There are also a variety of motions like 'Highlight' which emphasizes the first colour in your custom colour palette and subsequently fades in the other colours periodically.
4. The light bars are easy to install.
The light bars are ultra-lightweight so you don't have to drill holes into the wall to have them fixated. You also don't have to do any rewiring. All you have to do is to secure the light bars to any smooth surface with the included adhesive on the back of each Mounting Plate.
5. You can operate the lights using an app.
Nanoleaf lines can be controlled in many ways, with the Nanoleaf App via Wi-fi, voice commands or manually with the physical controller found on the nodes that connect the light bars. The light bars are also compatible with other smart services like Apple Home Kit, Google Assistant, Amazon Alexa, Samsung SmartThings and IFTTT integrations.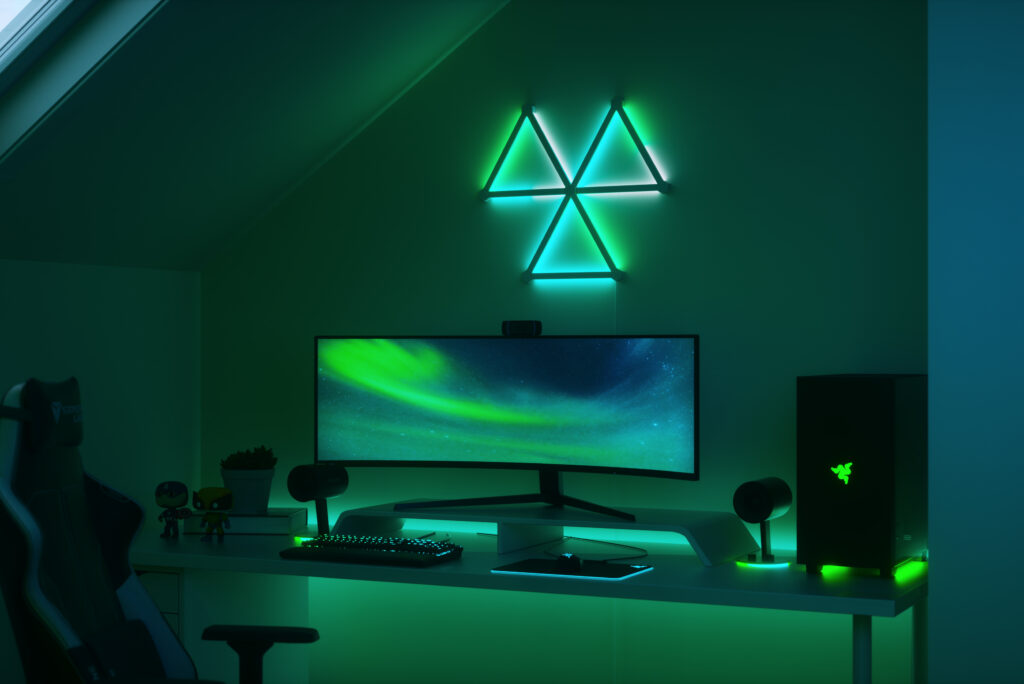 Nanoleaf Lines is now available at both online and physical stores in Singapore below. Smarter kits (9 Lines) retail at SGD339 and Expansion Packs (3 Lines) at SGD109. 
Stores
Online: Lazada, Shopee, and Amazon
Physical Stores: 
Brex International @ Oxley Bizhub
Synced by District @ Plaza Singapura
HipVan Experience Store @ Suntec
BHG @ Bugis Junction (from 1 December 2021)
Takashimaya Level 3
Omnidesk Experience Studio