Are you suffering from maskne? This is actually a common side effect of wearing a mask for long hours. If you're having breakouts because of that, you're not alone.
The mask not only traps humidity but can also rub against your skin and cause irritations. All these just worsen our skin condition especially if you have acne-prone skin.
If you're already suffering from maskne, it will be best for you to go for a deep cleansing treatment to detox your skin. At My Cozy Room, they provide a facial treatment that targets maskne conditions. A week ago, I went to this skin boutique to try out their maskne treatment and this is how it went. I was suffering from maskne since the start of the pandemic and I knew I had to try out the treatment.
My Cozy Room's Premium Maskne Freeze Facial
This unique freezing acne facial is suitable for those with acne or maskne. It is a 2-hour long facial. It is priced at SGD 388 (Currently, there's a 50% discount for first-time customers residing in Singapore). You can expect to experience the following benefits from this treatment:
Purifying and unclogging of pores
Reducing inflammation and redness in the skin
Balancing sebum production
Lightening of acne scars
Minimizing of enlarged pores
The treatment focuses on detoxifying and purifying the skin so that the skin is well balanced and looks clear again.
Step 1: Deep Cleansing of the skin
The treatment starts off with a double cleansing step. They use gentle cleansing products by BABOR to remove makeup, skin debris, oil and dirt.
After cleansing and steaming the face, they use an ultrasonic scrubber which helps in getting rid of unwanted buildup of oil, toxins, dirt and bacteria. It is essentially a pore cleaning device that uses high-frequency to lift the dirt and oil off your skin.
Step 2: Soften the dead skin cells with an enzyme mask
Before extraction, it is important to soften the dead skin cells layer so that is it also easier for the dirt trapped inside the pores to be extracted out. Over here, they use an enzyme lactic clay mask, which contains a plethora of vitamins and ingredients, to exfoliate the skin.
The mask contains gentle peeling and cleansing ingredients that remove the excess sebum and dirt trapped in the pores. It also protects the skin barriers and maintains the natural moisture level in the skin.
Step 3: Extraction
My skin was seriously clogged, especially in areas where my skin was in close contact with the mask. My skin was red after the extraction but the redness subsides towards the end of the facial. The cryo fusion and masking helps to soothe the skin.
Step 4: Use of High Frequency device to kills acne-causing bacteria
It is important to eliminate any remaining acne-causing bacteria on the skin after extraction. So over at My Cozy Room, they use a high-frequency device to kill any remaining acne-causing bacteria on the skin.
Step 5: Use of Microsilver Elixir ampoule (Optional top-up)
Now that the pores are clean, the skin is ready to soak up all the good stuff.
Before the cryo fusion step, they applied an ampoule called Microsilver Elixir. It contains a breakthrough ingredient, Microsilver, which is highly effective in subsiding redness and inflammation.
Step 6: Cryo infusion with BABOR Cellulose Mask
Next, they applied a cellulose mask which is specially formulated for combination skin in need of moisture and balance. With the cellulose mask on, the therapist did a cryo fusion massage over my face. This non-invasive treatment helps brighten the skin and tighten the pores. It also helps to firm up the skin too.
Step 7: Freezing Cold Mask with Volcanic Eye Mask
The best part of the facial is probably this masking step. It involves the use of a freezing cold mask with a volcanic eye mask. The freezing cold mask has peppermint extract infused in it so it has this invigorating effect on your skin. The cold mask would further help to reduce the appearance of any redness or swelling in the skin.
The volcanic eye mask, rich in charcoal and volcanic ash, is applied over my eye area to help reduce the appearance of fine lines, wrinkles and dark circles. It produces a warm sensation over my eye area which helps relieve my tired and puffy eyes.
Post-treatment
My skin looked more radiant and clearer after the treatment. And most importantly, the pores are now cleaner and my skin could finally breathe now. All I needed to do now is to take better care of my skin by making sure I change my mask frequently and use suitable skincare products.
My skin recovers even faster with the use of their in house brand of luxurious skincare products called BEKIND which are specially developed to treat acne and other common clogged pores skin-related conditions. I was given a sample size of their products to try. Their products are specially formulated for people with a skin type similar to mine. They work great on people with acne, clogged pores, dry skin and sensitive skin. They are free from parabens, artificial fragrances and synthetic colours.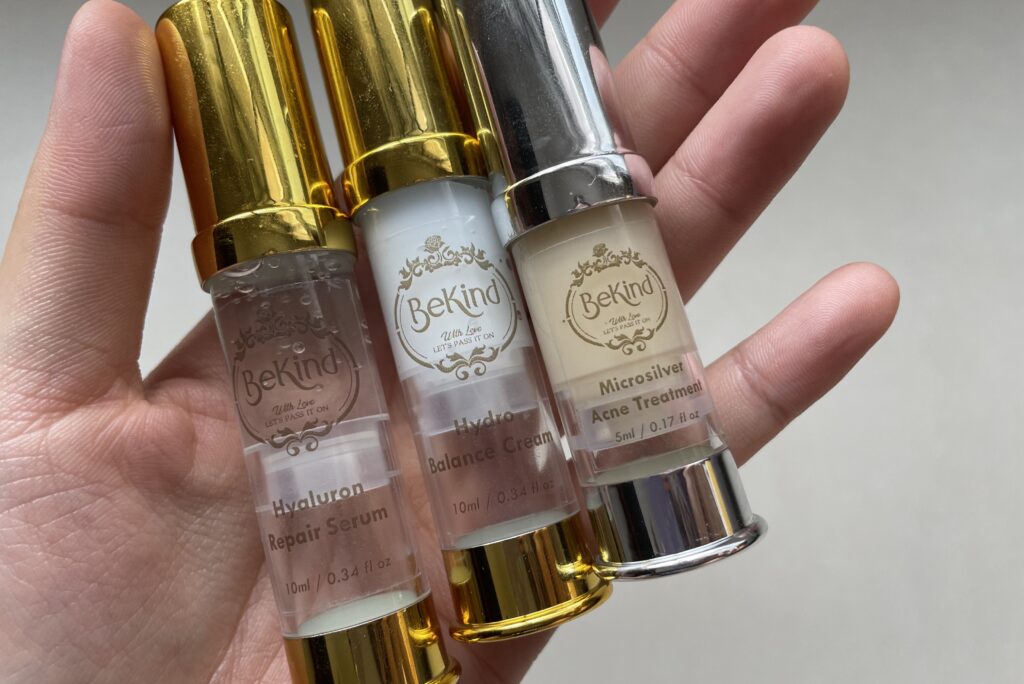 I particularly like their Hydro Balance cream. It is an oil-free face cream that has strong healing and hydrating effects. And if you are suffering from acne, you could give their Microsilver Acne treatment cream a try.
Watch the Maskne facial at My Cozy Room video here!
Read about the Royal Bird's Nest Facial treatment I did at My Cozy Room.