I was once a gym rat. I would try out various gym memberships across Singapore and join Classpass just so I could try out various fitness classes. But due to the pandemic and lifestyle changes, I haven't been attending any gyms or fitness classes. With the new relaxed measures, I decided to sign up again with Classpass on a trial basis to start working out again. I came across Ritual gym on Classpass and decided to give it a try. I am glad I visited Ritual because the experience I had could easily beat the other bigger gyms in Singapore which I've been to.
1. This boutique gym is highly suitable for beginners.
I heard of Ritual gym before but I haven't gone down to try it because it was just a regular gym that focuses on HIIT workouts. But after frequenting the gym, I was quite impressed with their 30-minute gym concept and service. They make me feel very welcome on my first visit by giving me a brief tour of the gym. And during my first visit, the trainer took the time to correct my exercise movements and body forms. It's a one-to-one 45-minute long session where the trainer will spend some time explaining the basics of each exercise move. I just thought that it was a great session for beginners.
Some may find gyms and fitness centres to be rather intimidating because they are not familiar with the surroundings and the routines practised in the gym. But here at Ritual, the concept is simple and easy to follow. After the first session at Ritual, you'll feel more confident coming back for the workouts by yourself.
In addition, they provide a series of exercise videos on their app so that you can watch the videos and learn the movement before coming to Ritual.
2. The changing room and showering area is clean and well-kempt.
I personally have visited all of their outlets except for their newest outlet at Tiong Bahru. All of the outlets are generally clean. The locker rooms have lockers, hairdryers and shower cubicles. Some outlets have shared toilet cubicles but some outlets do not have. I personally prefer the outlet at Orchard and Holland Village where the outlets are more equipped. This is perhaps one of the downsides to this gym when it comes to convenience. In addition, the locker room is shared among both males and females.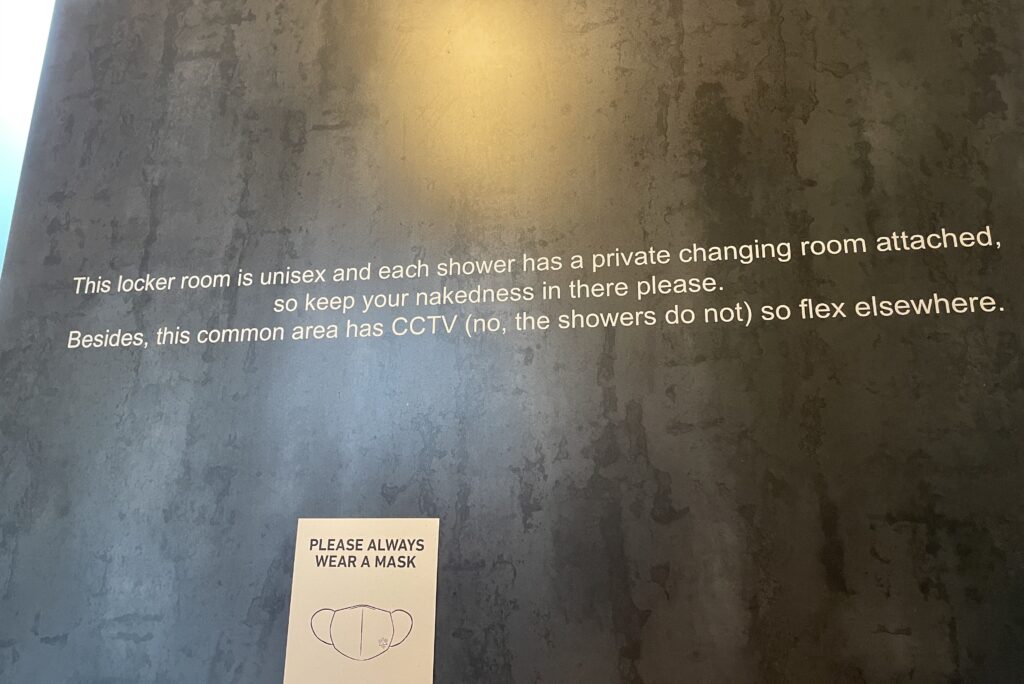 I felt a little uncomfortable at first but after frequenting the gym for about 2 weeks now, I generally find that it is alright. The members are all respectful and some do not actually use the showering facilities. Most of them just changed out after the workout and make a quick run out of the gym.
3. You don't have to bring your own gym wear and exercise shoes.
This is the best perk ever. Even though gyms like Virgin Active and Fitness First also provide shirts and shorts, but you will still need to bring your exercise shoes. I am not too sure if they allow you to exercise barefoot but at Ritual, it's a ritual for us to exercise barefooted. Hurray for that! It's a workout tailored for a minimalist like myself. I don't like to carry alot of stuff to the gym.
And because everything is pretty much provided for (except for water bottle and of course, your change of undergarments), you don't have to lug your gym bag out for workout. Also, you can make impromptu visits to Ritual since all you need is to show up!
4. You'll have your own exercise pod and own set of equipment to use.
The individual exercise pods are segregated by exercise equipment like dumbbells, suspension straps, and kettlebells. Due to this layout, all of us are socially distanced from each other. This is like the best pandemic gym setup ever.
We have to wipe down and sanitize the equipment after each use. The training floor will also be wiped down and sanitized so that the pod is clean for the next person to use.
5. Varied workouts to suit your fitness levels
In teaching, we call this differentiated learning. Over here at Ritual, there's also differentiated instructions for each of us and we get to choose which level of workout we like to attempt for that session. If we are feeling strong, we can go all out and attempt the workouts listed in levels 2 or 3. And if you forget any of the moves, just look at what others are doing or simply as the trainer to show you the moves.
The workouts are scientifically designed in such a way to help increase your metabolic rate so that your body will continue to burn fats even though you probably only clock in about 20 minutes of workout. If you include the warm-ups and cool-downs, the whole exercise session is about 25 to 30 minutes. And because the workout is short, you want to make sure you go all out to really maximize your workout.
6. Discounts and other benefits for Ritual Member
Once you signed up for the membership, you can enjoy discounts at various stores like The Daily Cut, Hook Coffee, Sultans, and many more. We got a 10% discount at The Daily Cut when we showed them the Ritual App. A couple of bucks off our post-workout meal, why not?
How much is Ritual gym membership?
Their gym rate changes vary from time to time. But on average, each session costs between $24 to $28. You can buy their session packs or fixed-term memberships. Their 12-months unlimited membership has the best value because it only costs around $200 per month.
Join me at Ritual with my Promo code < DeeniseGlitz >!
After getting to know about Ritual, I was eager to share my experiences on my TikTok account. The video went to places and landed on the eyes of the Ritual team. And yes, I land upon a chance to collaborate with them and I am eager to work with them because I really enjoyed my workout sessions so far at Ritual.
They have kindly extended a special promo code that you can use to save 50% off the fees by simply using this promo code 'DEENISEGLITZ' when you sign up for a 2-week Ritual Gym Trial Pass. The usual price is $90 and with this promo code, you will only need to pay only $45. You can sign up online via their website and enter the promo code! If you spot us at Ritual, please say hi!
Enjoy a free unlimited 2-week gym trial at RITUAL using this special promo code '2023DEENISE'. Limited to the first 30 sign-ups only.