(Enjoy 20% OFF your total bill when you dine-in from now till 30 April 2022.)
If you enjoy modern Asian cuisine, then you must try the food at Slake restaurant. It's one of the more contemporary restaurants that offer creative dishes which are almost unheard of. I mean, have you tried battered pig ears and Chilli Crabby Mary cocktail?
On the Menu
I've been to this restaurant twice and these are the dishes which I could highly recommend that you try. But brace yourselves because you might find some of the dishes below unconventional but I guess that's the fun part about exploring and tasting different food combinations. You might be inspired to start cooking up a storm in the kitchen and experimenting with the different ingredients available in Asia.
It is also interesting to note that Slake is actually a sister restaurant brand of JUMBO, the popular seafood restaurant chain in Singapore. And you can also enjoy really sumptuous seafood like their char-grilled lobster and mud crabs at Slake.
1. Cold Custard Rendang
For appetizers, I would recommend this cold custard Rendang to 'warm up' your palate. It's cold, savoury and refreshing. We usually savour warm rendang with some rice but this time, it's in a form of a charcoal egg custard served with some tobiko for that elevated taste and texture.
2. Shio Kombu Beef Fat Popcorn
If you are just heading to Slake for some drinks and light snacks, then you must try their Shio Kombu Beef fat popcorn which is highly addictive. It's the type of savoury gourmet popcorn that you wish you had while watching your favourite movies on screen. You can literally taste the umami ness in every popcorn kernel.
3. Chye Poh Fries
This has got to be their all-time favourite dish on the menu. The crispy french fries are topped with aged black vinegar mayo and deep-fried Chye Poh or Chinese white radish. Who knew that Chye Poh can go so well with fries?
4. Battered Pig Ears
If no one tells you that these are pig ears, you might think it's just calamari. Like calamari, the pig ears have a slightly chewy texture. When deep fry with batter and dust with Mala powder, it tasted almost like any other deep-fried snack.
5. Orange Glazed Pork Brisket Ribs
Another favourite at our table is this Orange glazed pork brisket ribs which are deliciously charred on the outside and fork-tender on the inside. It's like a similar take to sweet and sour pork ribs or coffee pork ribs where you can taste that beautiful contrast of flavours.
6. Slake Nasi Kerabu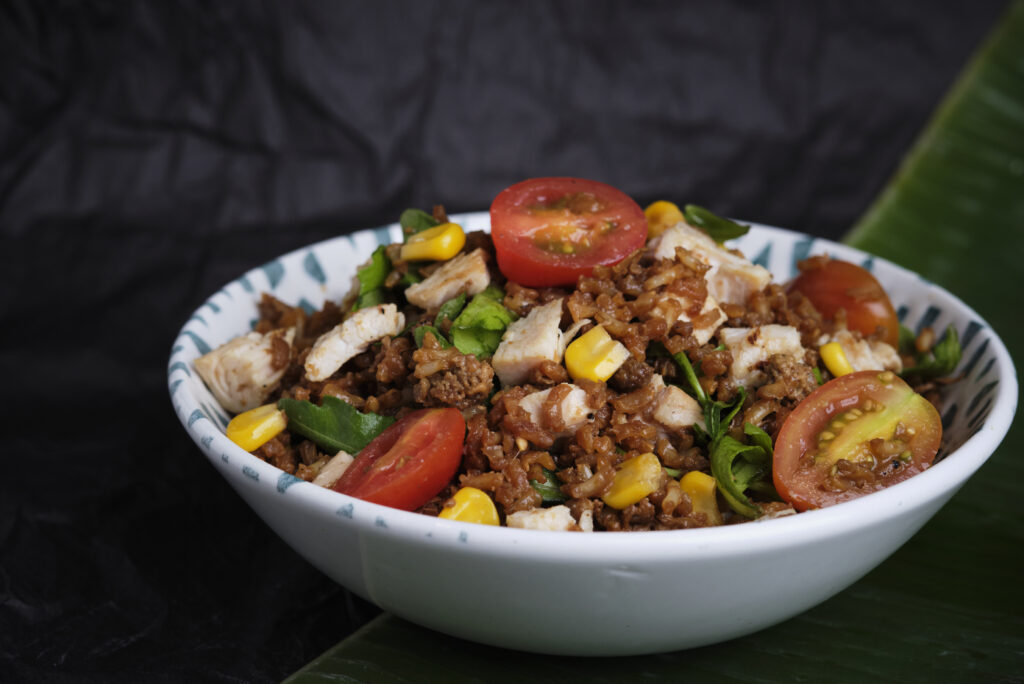 To fill up the tummy and meet your daily nutritional needs, you have to try their Nasi Kerabu which is almost like a mixed salad with brown rice that has a mild wok-hey taste to it. The rice is fried with prized cut beef trimmings and topped with Ricola, corn, cherry tomatoes and poached chicken breast. It's a hearty and wholesome dish on its own and I wouldn't mind having it for lunch.
Weekday Lunch Promotion
Speaking of lunch, they have just launched their special weekday lunch set menu. You can enjoy a 2-course set lunch for just SGD 19 or a 3-course meal for just SGD 25 on weekdays from 11.30 am to 2 pm. The 3-course meal includes a dessert which you can choose between their Sticky Date Huat Kueh, Kopi Gao or Sour Fruit Slump. I personally enjoyed all three but the one that is truly stellar has got to be their Sticky Date Huat Kueh.
Location
Slake Restaurant
Address: 20 Upper Circular Road, #B1-48, The Riverwalk, Singapore 058416
Operating hours: Lunch (11.30 am to 2.30 pm), Dinner (6 pm to 10 pm)