I had no idea what was up with my skin lately but it has been flaring up with all the clogged pores. Clogged pores can be a real pain, especially when they seem to be constantly reappearing no matter what you do. If you're struggling with clogged pores, you're not alone—it's a very common skin concern.
There are a few things that can cause pores to become clogged. Dead skin cells, sebum (oil), and makeup can all build up and block pores. This can happen whether you have oily, dry, or combination skin. Clogged pores can also be caused by using products that are too harsh or not meant for your skin type.
Luckily, there are a few things you can do to help get rid of clogged pores and improve your skin's overall health.
1. Use skincare products that contain either salicylic acid or retinol
One of the best ways to get rid of clogged pores is to use a product that contains salicylic acid. This ingredient is known for its ability to penetrate deep into the pores and break up any clogs that may be present.
You can also try using a product that contains retinol, which is another ingredient that can help to unclog pores. I've been using Kiehl's Retinol Skin-Renewing Daily Micro-Dose Serum which I thought was quite good as it is gentle on my skin.
2. Exfoliate your skin regularly on a weekly basis
In addition to using products that contain these ingredients, you should also make sure that you're cleansing your face twice daily and using a gentle exfoliator a few times a week. These simple steps will help to prevent clogged pores from forming in the first place.
3. Go for an extraction facial
After my menses, the skin at my forehead area became super clogged and the skin felt very bumpy and rough. And whenever I needed help with my skin, I just simply head to look for my skin therapist at Indulgence Beauty. They specialise in extractions and acne treatment. Thank goodness I no longer face acne issues but I do get clogged skin from time to time.
Whenever my skin is clogged, I knew it was time for a facial as I knew that extractions had to be done in order to remove all the clogs and impurities embedded in my skin. I am not going to lie but it was quite unbearable for me this time around because I had a lot of clogged pores and the needle-prickling sensation is just painful. Thank goodness, my therapist was skilful and managed to extract all the gunk within 15 minutes. Other times when my skin is not clogged, the extraction process was actually more bearable.
Freezing my skin
Because my skin was clogged and dehydrated, they recommended that I try out their new hydrating treatment called D'Cool – or was it the cool? I had no idea. But one thing for sure, I enjoyed the treatment very much because it is so relaxing.
In this treatment, they actually perform the facial and shoulder massage right after extractions. I super love their facial massages here because they use a very pleasant-smelling scented massage cream for the face and neck. The facial massage usually ends off with this jade ball rolling step as well. It further cools and soothes the redness in my skin after extraction.
After the massage, it is followed up with the actual treatment step where they use this cooling device to 'freeze' my skin. The hand probe itself gently cools the skin up to minus 5 degrees celsius. Before going over my skin with the device, my therapist actually slathers my face with a hydrating serum.
After the treatment, the redness on my skin is almost gone. Every time after a facial, my skin looks plump up with moisture and felt so much smoother than before.
Bringing back my mojo
And last, by not least, they would usually use Esthemax hydrogel mask to bring back the radiance to my dull complexion. The hydrogel mask covers my whole face except for my lips. My therapist would usually leave it on for about 20 minutes before peeling it off.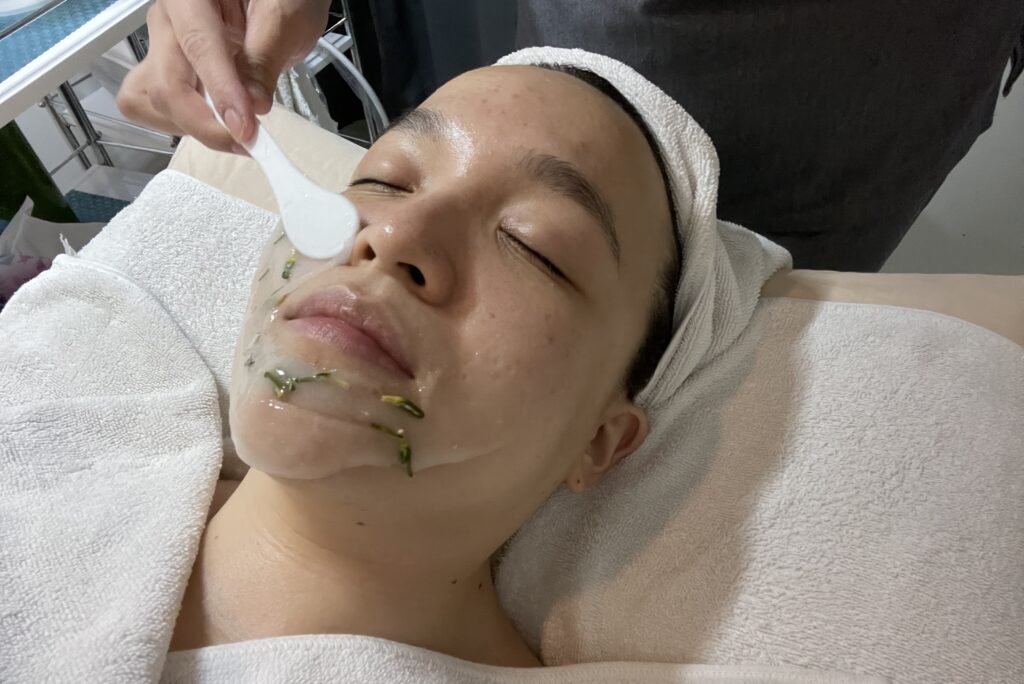 And here's how my skin looks after nearly 2 hours of facial. While my pigmentations are still staring right back at me, my skin generally looks brighter than before. As for the bumps on my forehead, they usually clear after two to three days after the facial treatment.
Pampering treat
I always take these facial treatments at Indulgence Beauty as self-care sessions to give myself some time to breathe and relax. And I was thinking that I should start working on my hair and scalp too because they needed help too!
If you want to clear your clogged pores fast and effectively, extractions is the way to go if your skin is not too sensitive.