What I've been up to lately
I miss blogging. I haven't been blogging casually ever since I got hooked on TikTok. My life changed quite a bit after I left my teaching job and started a food account on TikTok. Besides going all over Singapore to eat and explore, I've been doing some part-time teaching, selling digital templates on Etsy and designing my new 4-room HDB flat.
Because our flat was delayed for a year, we took our time to come up with a mood board while looking for an interior designer to do up our home. I don't how we managed to wait for so long but we were both quite patient, believing that the flat will be handed over soon to us.
A couple of weeks after we received a notification from HDB that our Home Lome Eligibility (HLE) has been approved, my husband received an SMS from HDB with regards to our key collection date. FINALLY! Next week, we will head over to the HDB office to collect the keys and settle the housing loan.
Finance matters
I've been documenting my HDB renovation journey on YouTube and I might create a video or a blog post on HDB finance matters. But I wanted to have my doubts cleared with an HDB officer on the date of key collection before I proceed to share. Financing the house would have been a breeze if not for the fact that both of us actually used part of our CPF money to invest in some funds.
With the current unstable market climate, both of our portfolios are in the red zone. I am not going to lie but we do argue about this matter from time and time. Even though we knew that God would provide, I was still jittery about our housing loan and payments.
Renovation matters
We have signed on with an interior design (ID) firm through our friend's recommendation. We both weren't quite sure if we have gotten the right ID because we did not really 'shop' around. We tried but some rejected us and mentioned that they are busy clearing all their projects which were held back due to the pandemic.
So far, we have discussed the layout and theme of the house briefly. We have also visited the tile shop, Soon Bee Huat and Hafary, to select the kitchen and toilet tiles. We took less than three hours to select the tiles we want. And that's about it. We have not purchased any appliances, furniture or household items from Taobao but we did drop by furniture shops to have a look.
I guess we can only firm up our ideas once we view the site to access the lighting and surroundings. But we both wanted a brutalist/wabi-sabi themed home.
You can also read my article on the 5 things you should know before hiring an ID.
My 4-Room HDB Flat layout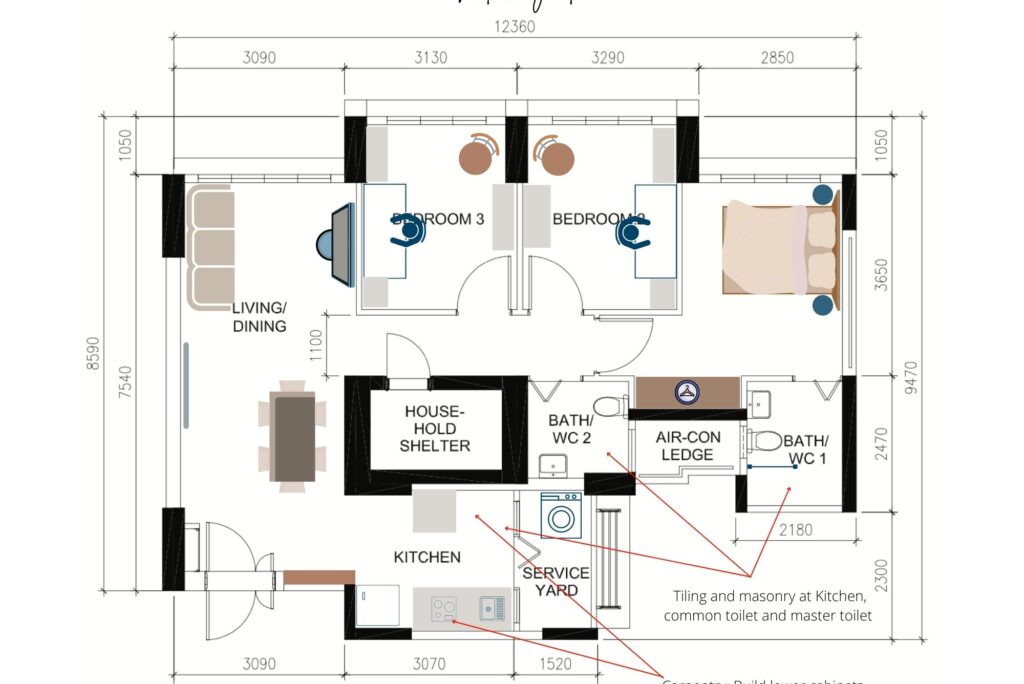 This is our rough flat layout which is still subject to changes. We actually briefly went through the layout with the interior designer during our very first appointment. We might make a few more couple of adjustments after we view the site. Since we might want to move out after 5 years, we are keeping things simple. We did not plan to hack off any walls or make drastic changes to the current HDB flat. Instead, we want to see how we can make the best use of the current HDB layout to create a modern and comfortable living space.
Our revised colour palette
Besides saving images on Pinterest and Instagram, the next most important thing we did was to determine the colour palette for the house. Having a colour palette would help in selecting the suitable furnishings for the home. This is key to achieving a well-designed home that looks cohesive. Once I've determined the colour palette, it was so much easier for us to select tiles and laminates with our ID.
As of now, we have only selected our tiles and that's pretty much about it. Things are progressing quite slowly because we haven't collected our keys. But now that we have received a notification to receive the keys, we could not wait to start our renovation work.
Stay tuned for more of my renovation videos on my YouTube channel!
If you are just like me, moving into a new home and planning to get new furniture to spruce your space, you might want to check out this credit card promotion where you can get a free ErgoTune chair or Xiaomi Mi Robot Vacuum-Mop 2 (till 31 July 2022 only)!