This month, my skin feels good. With fewer blemishes, I was able to try out Indulgence Beauty's latest facial treatment called Mesotherapy. Unlike the traditional mesotherapy treatments, the treatments offered here is non-invasive and it's needleless.
Needleless Mesotherapy
It uses an advanced, patented gas-liquid infiltration technology to infuse anti-aging and hydrating solutions into the innermost layers of the skin. Instead of a needle, it relies on this high pressure injector that released electric pulses to propel the skin essence right into the skin. This allows for a deeper penetration of ingredients right into the skin deep.
The whole treatment process was generally quite bearable though at times, when the electric pulses get really strong, it leaves this tingling sensation on your skin which can be uncomfortable. But the moment, when I told the therapist that it's causing some discomfort, she lowered the intensity of it and it was so much more bearable.
Mesotherapy Facial Treatment (1.5 hours)
Before the treatment, a facial steaming and extraction steps are carried out. The facial steaming process was a little longer for this treatment as the skin needs to be soften before carrying out the mesotherapy treatment.
After extraction, the therapist perfomed the mesotherapy treatment onto my skin. She also did it at my undereye area as this treatment also helps to treat eye bags and crow's feet. Essentially, it's a rather good anti-aging treatment that not only lifts and tones the skin but also nourishes the skin layers with skin-benefitting ingredients.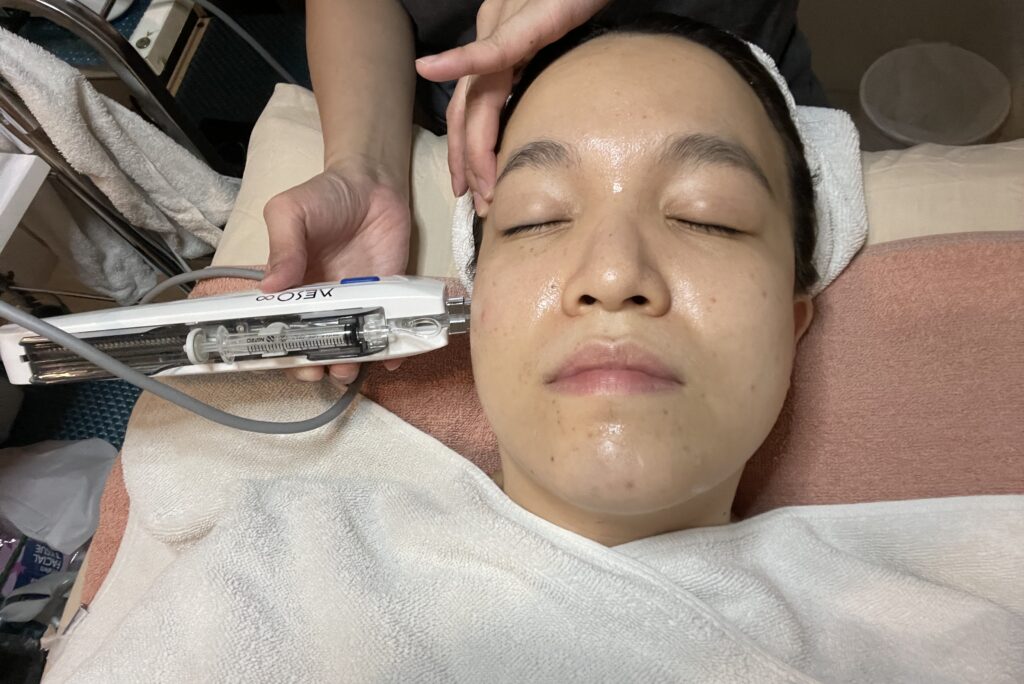 To end off the treatment, a mask is applied with a LED light-emitting device placed over my head. The LED light therapy enhances the performance of the facial mask applied.
Facial massage is not included in this treatment as it is not recommended. The massage might over stimulate the skin so it is best to complete the mesotherapy treatment rightaway with a mask.
My verdict
Personally, I have a very low tolerance level for pain so I didn't really enjoy the needleless Mesotherapy treatment but I do know that my skin requires it because I have several skin issues. I guess you can sum it up by saying, 'no pain, no gain'. Some of the most effective and advance skin treatments usually isn't very comfortable to begin with.
As for results, I didn't witness any noticeable differences yet as I believe that I'll need to undergo a few more of such treatments to witness the benefits. Without a doubt, needleless mesotherapy would not be as uncomfortable as the traditional mesotherapy where actual micro-needles are used. I'd done that treatment before and it wasn't the most comfortable skin treatment.
Hopefully, my skin would improve with subsequent sessions. Till, next time!