Do you know that there is more and more local produce which is readily available in the supermarkets like NTUC FairPrice? Even though we are land-scarce, we are still able to find ways to grow our local produce. Kudos to our local farmers!
And by consciously choosing to purchase locally grown produce, we are actually supporting local farms which in turn powers Singapore to become a more self-sufficient nation. With the current pandemic and climate change, there is a real need for our country to work towards sustainability.
NTUC FairPrice is a fervent supporter of Singapore's 30 by 30 goal
In support of Singapore's 30 by 30 in building a more resilient food future, NTUC FairPrice welcomes local farmers to have their local produce listed and displayed in the various NTUC FairPrice stores so that local produce is readily available to consumers.
NTUC FairPrice also collaborated with the Singapore Food Agency (SFA) to organize various joint promotions and campaigns to promote local produce and to help shoppers identify local produce easily.
How can we identify local produce?
You can simply identify it by spotting the SFA's SG Fresh Produce (SGFP) logo on the packaging.
And there are 3 types of SG Fresh Produce logos with each representing a different standard of certifications.
SG Fresh Produce 1-star logo is for produce which are fresh and locally grown.
SG Fresh Produce 2-star logo is for produce that is grown on certified farms in accordance with the Good Agricultural Practice (GAP) standard. This means that the produce from the particular farm has been audited and certified for production of good quality farm produce for consumers.
Some GAP-certified farms include Yili Vegetation & Trading Pte Ltd, Koh Fah Technology Farm Pte Ltd, Blue Ocean Aquaculture Technology, and Chew's Agriculture Pte Ltd.
SG Fresh Produce 3-star logo is for produce that is not only fresh and quality assured but also Clean and Green certified. This means that the produce is grown in GAP-certified local farms which employ sustainable and resource-efficient practices, with minimal waste generation.
Snag a local produce deal from 1 to 14 July!
NTUC FairPrice partners with over 15 local farmers, offering a wide range of produce from Jurong Frog Farms fresh frog meat to Sakura's bean sprouts.
This Super Kale from Sustenir is going for SGD 4.95 instead of the usual price of SGD 5.95. Kale used to be so costly in the past but now it is made more affordable and readily available to the masses.
The biggest mushroom grower in Singapore, Kin Yan does not use any pesticide in its farming. Their Fresh Black FUngus is going for SGD 5.25 for 2 packets (U.P SGD 2.95 per pack).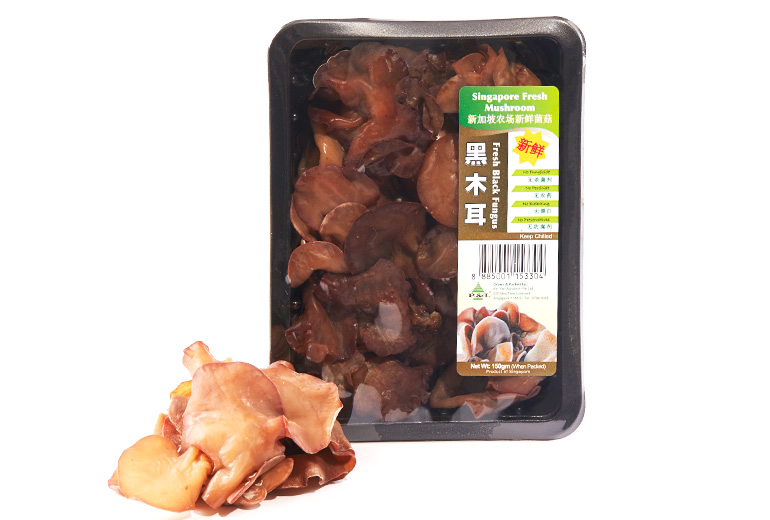 Their Fresh Pea Sprouts are going for SGD3.95 for 2 packs (U.P 2 packs for SGD4.40). I love how versatile these vegetables are. You can stir-fry them with some soy sauce or toss them into your salad bowl.
Chew's Fresh Eggs with Omega 3 is going for SGD3.55 (U.P SGD 3.85). I noticed that the yolk looks so much brighter.
Local produce is not only fresher but cleaner too. My favourite has got to be Sustenir's Argula. THe Argula has a nice peppery taste to it and goes well with other vegetables in my salad bowl. Because it is 100% clean and pesticide-free, there isn't a need to wash the vegetables. I could just pop them right into my salad bowl and toss them straight away with some salad sauce.
So the next time when you head to the supermarket, do support our local farmers by purchasing local produce! Do check out NTUC FairPrice website for the latest promotions.