As most countries are starting to lift travel restrictions, many people are traveling out of Singapore again. And besides booking your air tickets and hotel, the next important thing to purchase is travel insurance. I believe most of us living in Singapore would have already flown out of the country at least once this year.
As for me, I am only traveling next year, 2023. I guess traveling in the post-COVID-19 world is going to be slightly different. We now not only have to purchase travel insurance but also COVID-19 health insurance when traveling. I guess it is even more costly right now to travel with the rise in airport taxes and fuel. And more costs will be incurred if you contracted the COVID-19 virus while traveling, so it is best to get vaccinated and purchase travel insurance with COVID-19 coverage.
How do I shop for travel insurance?
I usually examine the costs of the travel insurance packages first and check whether the insurance company is reliable or not. The notable ones in Singapore are Prudential, Great Eastern, NTUC income, MSIG, and FWD. Some banks also partnered with insurance companies to offer travel insurance. I would say most of the more established insurance companies here in Singapore are somewhat reliable in terms of their service and offers. The other difference is probably the pricing and policy terms.
Value-for-money travel insurance
After doing some research, I find that the most value-for-money travel insurance is by FWD. They often offer a promo code on their website which entitles you to enjoy between 20% to 35% off their insurance policies. In the end, I bought from them because their travel insurance plans are the cheapest in the market. But do note you have to purchase their travel insurance and purchase additional COVID-19 coverage as an add-on to your policy.
Things I look out for in the Travel insurance plan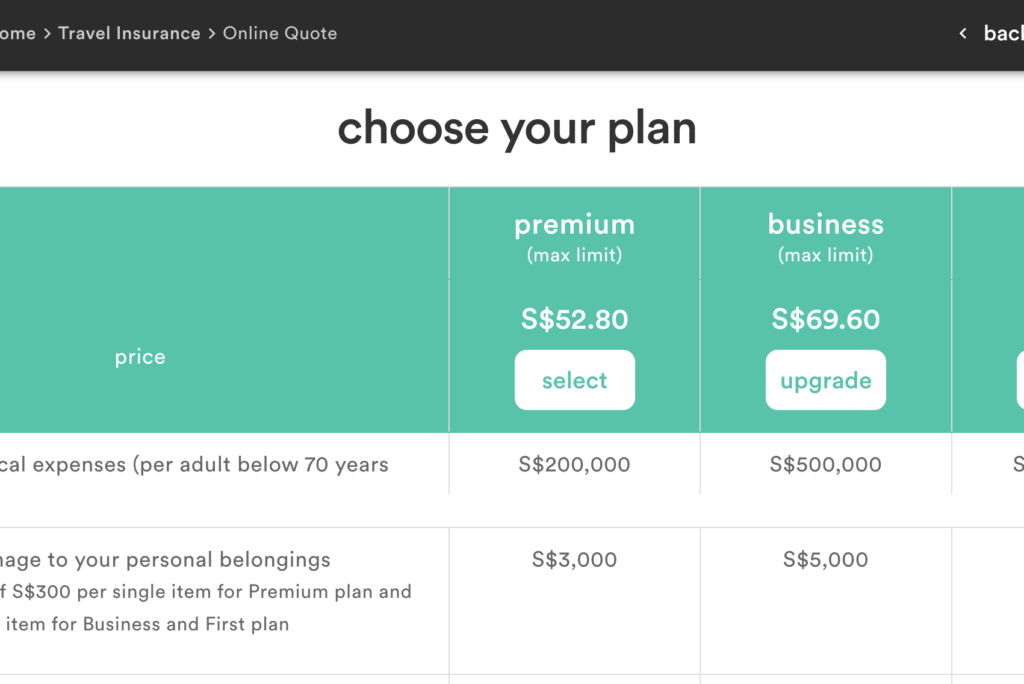 It's important to scrutinize the travel insurance policy and read through it carefully with understanding so that you will know when to make a claim or when you would be compensated. When I search for the best travel insurance plan to purchase for myself, I would work out the possible travel incidents which could happen based on the country I am traveling to and the duration of the trip.
For instance, there might be a possibility of me getting COVID-19 again since there are still COVID-19 cases and China has opened up travelers. It is highly important for me to ensure that the travel insurance plan provides COVID-19 coverage. Below are also other travel policy coverage that I would look into.
1. Overseas Medical Expenses
You'll never know if you might require medical attention abroad because anything could happen. Medical expenses can be really costly abroad. And it's important to read between the fine lines to find out what medical conditions are covered.
2. Theft or damage to personal belongings
If you are going to countries where pickpocketing or theft cases are high, you might want to look at how much is being compensated if situations like these happen. And find out what is their definition of theft or damage to personal belongings. Do you need to make a police report? What are the procedures like if you would like to make a claim? Collecting evidence is key.
3. Travel and baggage delay
Delays in flights or arrival of baggage do happen from time to time. And it can affect your whole travel itinerary and costs several inconveniences. Most travel insurance will start to compensate if the delay is longer than 6 hours.
4. Travel disruption due to cancellations of trip
You would have purchased your air tickets or paid for the tour package months ahead of your travel. And during this time, the trip can be canceled or shortened due to changes in your personal plans or world events like COVID-19 or natural disasters. Hence, it is important to purchase your travel insurance right after you book your air tickets, hotels, or tour packages.
5. How to make a claim
If things happened (keeping fingers crossed), what are the procedures like? What is their international emergency number to call when incidents happen? How do we make a report and claim? Thankfully, most of the claims can be made online through their website. Remember to keep all receipts or related documents with you. Take photos of the incidents and store them safely in your digital cloud storage or Google Drive.
Referral discount link
After you have considered the terms above, the next thing to look at is the price. Check for ongoing promotions where you can get to enjoy some savings.
And you can enjoy additional discounts if you use a referral code from your family, friends, or colleagues. If you are interested, you can use my referral code using this link here. This link will direct you to the FWD website where you can purchase your insurance using the referral link.
FWD Travel insurance policy terms and conditions are quite good and suit my travel needs. They have 3 different packages: premium, business, and first. The premium policy is the most basic package among the 3 but it's good enough for me.
Prompt service
Also, do check any online reviews about the insurance companies before purchasing. You can read Google reviews or other websites which allow people to share online reviews of insurance companies. At the end of the day, service matters the most. In dire situations, you would want them to be there to provide some form of support and assurance.
FWD's service is quite prompt. Upon purchasing the travel insurance from them, I realized that I purchase the travel insurance on the wrong dates. I was in a panic mode when I realized this so I quickly drop them an email and they called me the very next day to address this issue. It turns out that you can still amend the policy date via your account as long as the policy has not commenced. Because of this, I foresee myself purchasing travel insurance with them again in the future.
Have a safe flight and happy travels!