I am really fortunate to be one of the first ones to visit Bird Paradise, the new attraction at Mandai Wildlife Reserve, before it is officially opened to the public from 8 May 2023 onwards. It was a media invitation and similar to everyone else, we all can't wait to get in and take as many photos and videos as we could.
My thoughts
Honestly speaking, I really did not take the time to soak into the atmosphere and enjoy the space as I focus mainly on taking videos and creating content for my TikTok platform. At the same time, I was thinking about which sites I should feature in the video and things that people should take note of when they visit Bird Paradise. So, I really hope to visit this bird park again and I believe that it will probably take me 3 to 4 hours to cover this park. But that day, I just did a quick walk-through and I managed to cover the park in 1.5 hours.
As a Singaporean, I am really proud of this new bird park. And I believe most Singaporeans would agree with me that it is the right decision to close down Jurong Bird Park and housed the birds at Mandai, which is closer to the Singapore Zoo as well.
What is so unique about Bird Paradise?
I had many beautiful memories back at Jurong Bird Park as I have worked as a volunteer there before – feeding the birds and cleaning their cages. But now, at Bird Paradise, the birds can fly and roam about freely. It must be really liberating for the birds to fly freely instead of being caged up. So herein lies the question, can the birds fly away from Mandai and escape? They can't because they are nettings around the bird park. So even though they have larger space to roam about, they are technically still confined within the 17-hectare park.
Mandai Wildlife Reserve designed the park in such a way that the aviaries are interconnected and the birds can fly from one aviary to another. There are a total of 8 walk-through aviaries and 2 zones. At this point, I am not too sure if all the 8 aviaries are linked together but I noticed that some of the aviaries, which are adjacent to each other, are merged together. But for the visitors, there are interconnecting paths that lead us through the 8 aviaries. There's also a 2,000-seat amphitheater with two avian presentations. I did not get to visit the amphitheater so that is another reason for me to make a second visit there.
The moment you enter the aviary, do not be surprised if the birds started to peck your shoes, perch on your shoulders or head. Some of these birds have a playful nature. So it is also important for the park to educate visitors and keep a look out for one another.
Highlights of the Bird Paradise
Here are the 8 open-air aviaries and each of them has a different theme.
Heart of Africa: This is the largest aviary at Bird Paradise. It is designed to give visitors the experience of walking through a dense canopy. There's a suspension bridge and a viewing tower that visitors can explore. According to Mandai Wildlife Reserve, there are around 80 species of birds in this aviary. There's also a feeding session happening in this aviary where you can get a chance to feed the birds. You will need to make a reservation for these feeding sessions via their website.
Kuok Group Wings of Asia: This aviary pays homage to the diverse natural habits of Southeast Asia. As you enter, you will notice the terraced rice paddy fields which resemble the ones you see in Bali. You will also see the pavilion and Balinese-inspired split gate. The key species include Australian Pelican, Papuan Hornbill, and Milky Stork. It houses around 30 species.
3. Hong Leong Foundation Crimson Wetlands: As the name of the aviary suggests, this place is filled with birds (not all) that have a red coat of feathers. You will see beautiful macaws like Scarlet Macaw, Red-and-Green Macaw, and Blue-throated Macaw. You can see them up close, feeding on the food prepared by the bird keepers. Their feathers are just drop-dead gorgeous! The other key species include the American Flamingo, Scarlet Ibis, and Roseate Spoonbill. There's also a 20-m cascading waterfall which is inspired by San Juan Curi waterfall in Columbia. This waterfall also pays tribute to the Waterfall Aviary of Jurong Bird Park.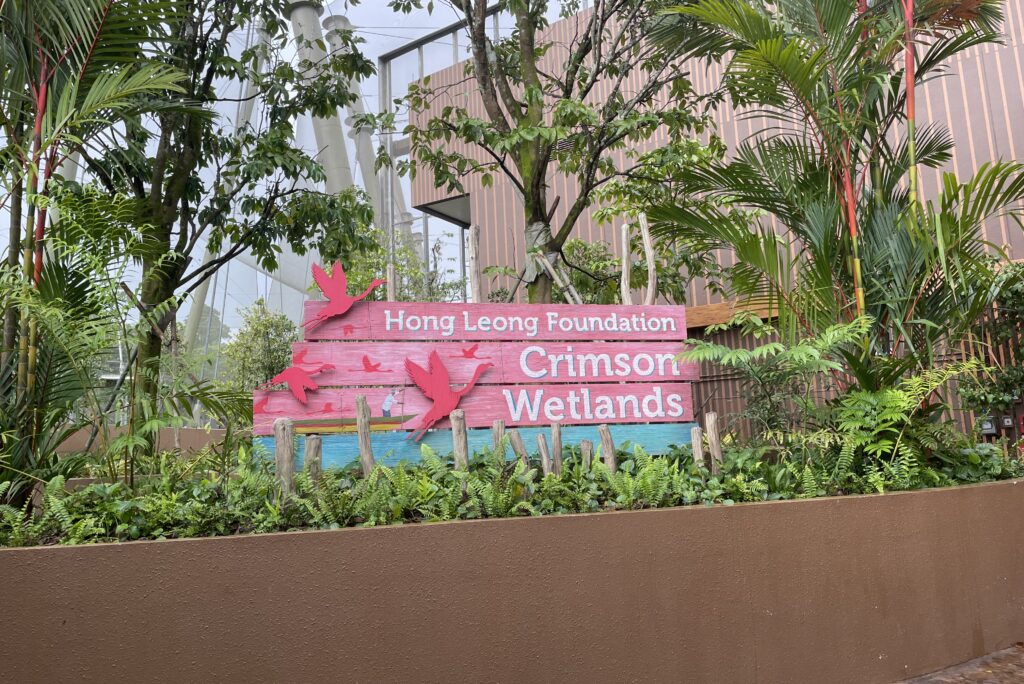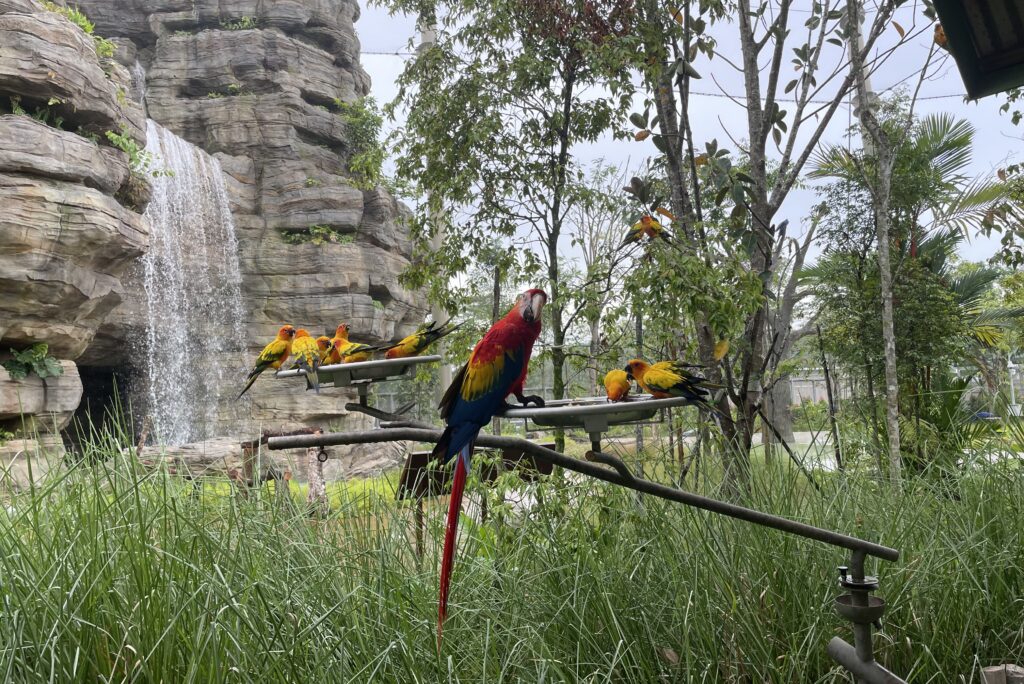 4. Amazonian Jewels: This aviary is inspired by the rainforest of South America. You can see the iconic ficus trees planted and the majestic buttress roots. The key species include Golden Parakeet, Saffron Toucanet and Blue Ground-dove.
5. Songs of the Forest: This aviary houses birds like Bali Myna, Straw-headed Bulbul, Victoria Crowned Pigeon and Santa Cruz Ground-dove. These birds are not only loud but they can be very playful. There's a lot more bird-human interaction that I observed at this aviary. There are keeper talks conducted in this aviary where the keeper shares more about the distinctive vocalizations of each species.
6. Lory Loft: If you have visited Jurong Bird Park before, you would remember that there's an aviary there called Lory Loft as well. Likewise, at this new Lord Loft, visitors are able to the lories with cups of sweet nectar. The birds might come close to you and perch on your shoulders or wrists. You will find birds like Dusky Lory, Rainbow Lorikeet, Red-collared Lorikeet, Coconut Lorikeet, and Yellow Bibbed Lory.
7. Mysterious Papua: Be sure to look out for the critically-endangered White Cockatoo. There's also a longhouse-style bird hide that offers you the opportunity to observe the birds up close.
8. Australian Outback: You will find more iconic Australian bird species like Emu, Laughing Kookaburras, Tawny Frogmouth, and Red-tailed Black Cockatoo.
Penguin Cove
The other two zones are the Ocean Network Express Penguin Cove and Winged Sanctuary. The Penguin Cove is a state-of-the-art indoor habitat that houses two large acrylic tanks. Visitors would be able to view the penguins diving into the depths. There are 4 different species of penguins at Penguin Cove: Gentoo Penguin, King Penguin, Humboldt Penguin, and Northern Rockhopper Penguin. There's also a unique dining experience where you can dine as the penguins swim past you at the backdrop.
Winged Sanctuary
The Winged Sanctuary is a zone that showcases the efforts undertaken by Bird Paradise to support conservation work and promote education and awareness of threatened species.
Play Areas for Families
There are two play areas for children: Treetop Play and Egg Splash. Children can bounce on the trampolines and scale the nets! At Egg Splash, children can play with water at this egg-themed wet playground that has water slides, sprays, and shallow pools.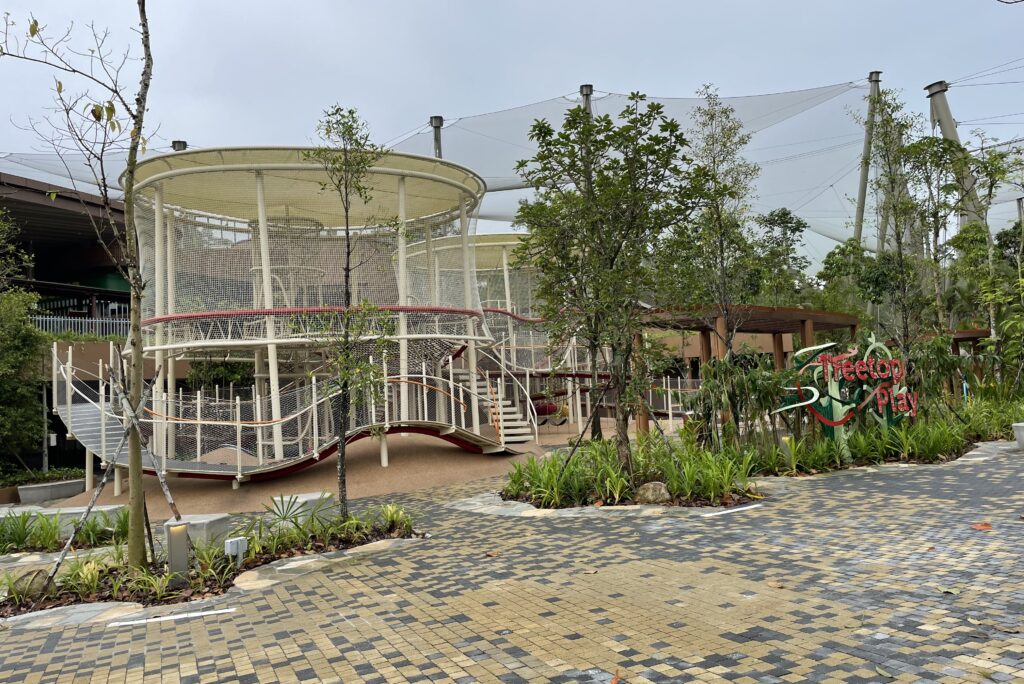 Overall, I foresee that Bird Park will be a major attraction for tourists visiting Singapore. The Bird Paradise theme ties in quite nicely with other attractions like Jewel Changi and Gardens by the Bay. It is definitely one of the places in Singapore which you must visit with your family.
Tickets and Opening Hours
Bird Paradise is open daily from 9 am to 6 pm. The last admission into the park is at 5 pm.
All admission tickets must be purchased online prior to visiting Bird Paradise.

Pricing (Soft Opening launch from 8 May to 26 May 2023):
Single-park admission is at a special rate of $38 for adults, $23 for children (aged 3 to 12 years old), and $20 for senior citizens.
Pricing (from 27 May 2023):
Single-park admission is at the full price of $48 for adults, $33 for children (aged 3 to 12 years old) and
$20 for senior citizens.