Mister Donut is back here in Singapore with a permanent store at level 2 of Junction 8 at Bishan. This is their first outlet in Singapore and they have a special opening promo on 21 May 2023, on the day itself.
Mister Donut's delectable donuts has been a hit when it first had a pop-up at Jurong Point. The most talk-about donut by Mister Donut is probably their Pon De Ring, which is a mochi donut coated with a sugar glaze. I came here just to try these donut rings which are so popular on TikTok.
20 varieties of donuts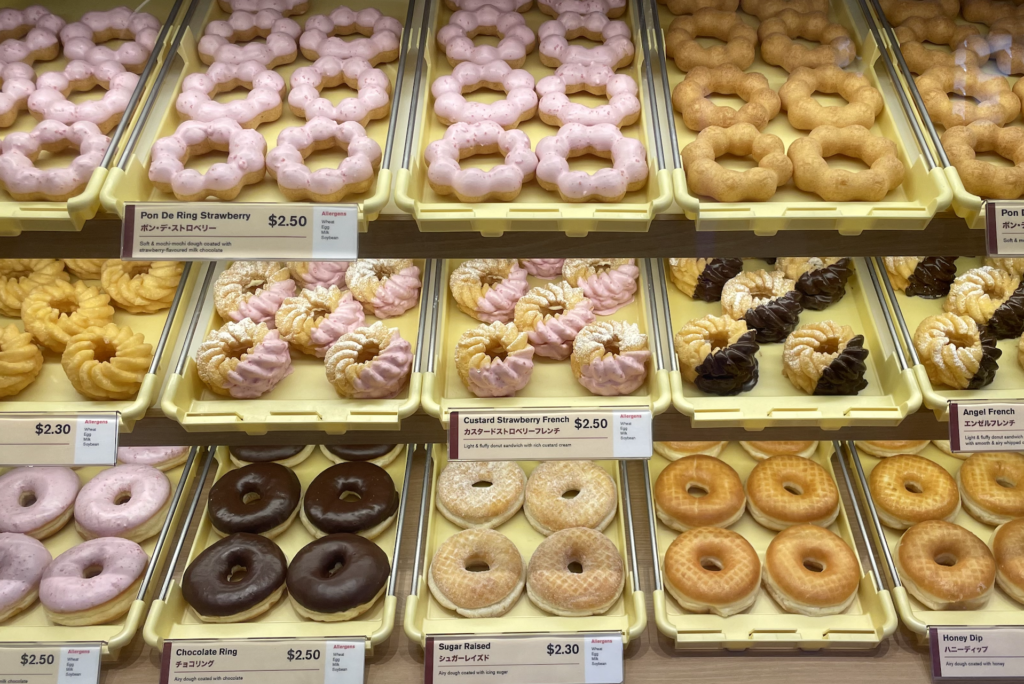 At their takeaway concept store, they are currently offering 20 varieties of donuts, 2 of which are exclusive to Singapore only. It's their Pon De Ring Chocolate and Strawberry Chocolate Donuts. The prices of each donut range from $2.30 to $2.50, 6 donuts for $14 and 10 donuts for $23. The prices are a little on the higher end but not outrageously expensive or anything like that.
Currently, there is a limited number of donuts you can purchase each time. You can only purchase a maximum of 10 donuts and 4 Pon De Rings at one go. They bake their donuts fresh daily and in limited quantities so it might also sell out on the day itself. So do head there early if you want to be one of the first few to try them.
Mister Donut Menu in Singapore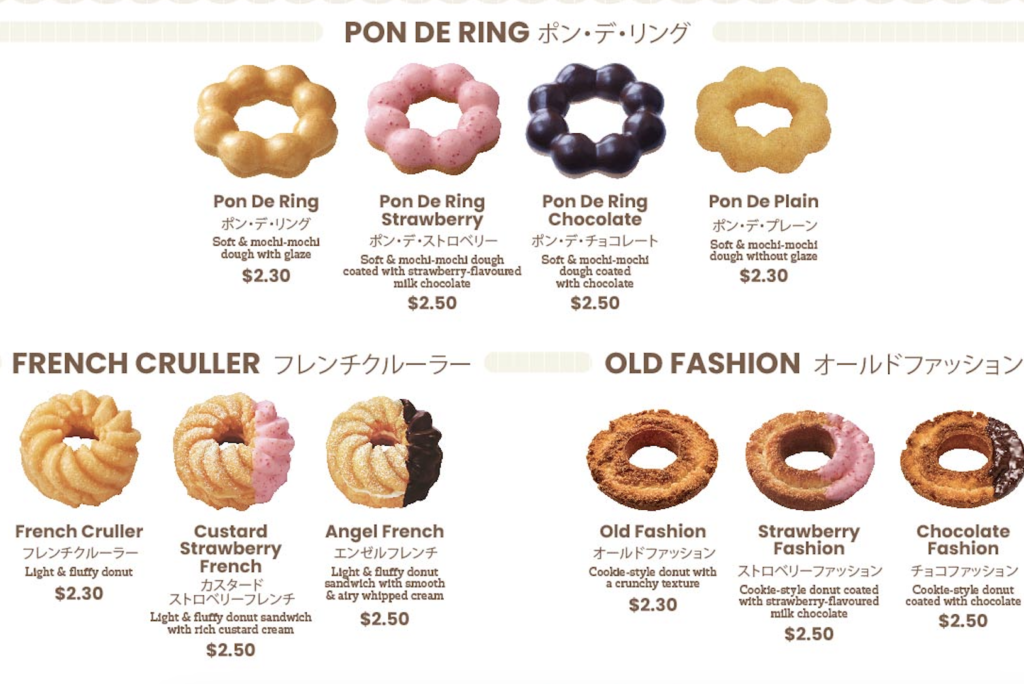 Recommended donuts
I tried 4 different donuts at the outlet itself and took home 10 other donut flavors to do a taste test. Overall, I find that the donuts are not too overly sweet like Krispy Kreme or Dunkin Donuts. The flavors are quite well-balanced and the dough is quite chewy and fluffy. However, in my personal opinion, there isn't much to really shout out unless you're really a donut lover.
Here are my two favorites:
Pon De Ring
There are 4 variants of the Pon De Ring. I managed to try all 4 of them. Personally, I prefer the classic Pon De Ring which is glazed with sugar icing. You can really appreciate the flavor and texture of the mochi donuts better without the chocolate or strawberry coating. The plain Pon De Ring isn't as nice because donuts should taste a little sweet after all!
Strawberry Ring
Their classic yeast donuts, honey dip, and strawberry rings are pretty good. To me, this is their second-best donut. I especially enjoyed their strawberry glazed donuts but not the chocolate ones. I find their chocolate donuts are not 'chocolatey' enough and the chocolate coating tastes very ordinary.
We also tried their Angel Cream and Custard Cream which resembles a lot like the Italian bomboloni. I prefer glazed donuts to donuts with fillings personally unless the fillings taste amazing. The chocolate donut series wasn't to my liking as well because it tastes more like a dry chocolate cake. And their French cruller reminds me of Japanese Cream Puffs. It's like a similar construction except that it's now in a donut-shape.
Is Mister Donut worth the hype?
I would say that trying once or twice is good enough. It's not really something that I could constantly crave for. I would have preferred their mochi donuts to be more doughy and chewier so that their texture is clearly distinct from the Yeast donuts. If you close your eyes and do a taste test, I am pretty sure you can't really tell if the Pon De Ring or Yeast donut is chewier or not.
It's definitely worth a try if you have not tried such donuts before or if you just wanted to find out if their version here in Singapore tastes as good as the ones in Japan.
Location of Mister Donut
Address:
9 Bishan Place, #02-27A, Junction 8, Singapore 579837
Opening Hours:
Daily 11.00am–8.30pm (While stocks last)