Sofa cleaning
We recently got Be Mitey Clean to clean our 6-month-old sofa which we bought last year when we first move into our new 4-room BTO flat. It was timely because I did not really know how to clean and maintain the sofa except to vacuum it and purchase ScotchGard Fabric and Carpet cleaner to remove any light stains or freshen up the fabric. But deep down, I knew that these tools weren't enough.
There are several powerful upholstery cleaning machines out there but they are quite costly and suppose we purchase them, we probably only use them once every 6 months. It would probably be more worth it if you have a few upholsteries (e.g. curtains, chairs with fabric coverings) at home to clean. We may consider getting one next time if they are more cost-saving. As for now, we decided to get our sofa cleaned professionally.
Professional Sofa Cleaning Service
It just so happened that Be Mitey Clean reached out to us at the right place and right time, so we got them to clean our sofa. For sofa cleaning, they offer 2 types of packages: Deep Cleaning and Ultimate Shampoo. They are able to clean most types of sofas, from fabric to leather and velvet sofas. The cleaning methods may differ slightly for each type of fabric.
I was recommended the Deep Cleaning package as my sofa is only 6 months old and considered pretty new. It was mainly used by my husband who likes to laze there and take naps. The Ultimate Shampoo package, on the other hand, is more suited for those sofas which are heavily used or perhaps have not been cleansed for a really long time.
Deep Cleaning
The Deep Cleaning package involves 4 main steps: Dustmite Extraction, Water Injection Cleaning, Steam disinfection, and Protective coating. As for the Ultimate Shampoo package, there are 2 more additional steps.
Dustmite Extraction
The team arrived at my house around 15 minutes after the appointed time but they gave a call 30 minutes before arriving. They brought along their cleaning equipment and there were two workers cleaning the sofa at one time. The whole cleaning process took less than an hour for my 3-seater sofa.
They first performed the dust mite extraction using this really loud vacuum that remove any particles on the surface. This includes hair, dust, tiny insects, and dust mites. My estate has a lot of tiny flies and even though we installed the insect netting, we noticed that some of the flies so get in either through the tiny holes of the nettings or through the front door. So I am pretty sure that there are several dead tiny flies on our sofa too.
And because we can't remove the sofa cover, we can't really give our sofa a deep cleanse by ourselves. So hopefully with all this professional sofa cleaning service, our sofa will be cleaner and fresher.
Water Injection Cleaning
After vacuuming the surface of the sofa, they moved on to the second step which is to inject water into the surfaces to remove any dirt, grime, or oil stuck to the fabric. It's a little like washing the sofa fabric without having to dump it into the washing machine.
During this process, a lot of the dirt and gunk get flushed out together with the water. They will also spray a special cleaning solution on the fabric to break down the dirt and oils so that it can be easily removed. (You can watch the video below to see how dirty the water is!)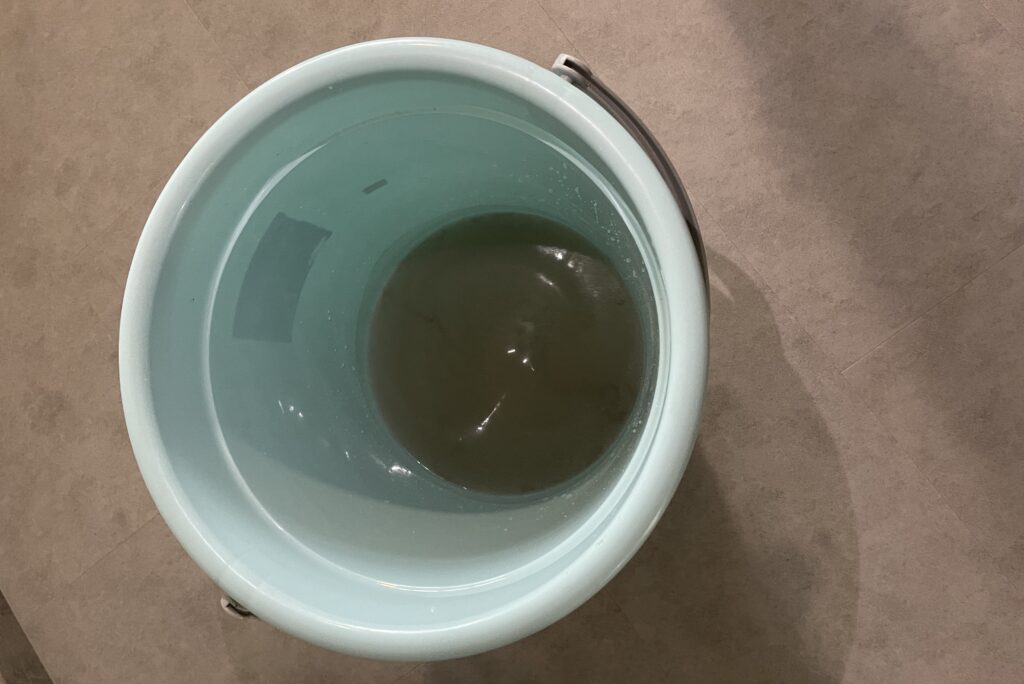 Depending on how dirty your sofa is, they might go through a few rounds of the water injection step just to ensure that the sofa fabric is clean thoroughly.
Steam Disinfection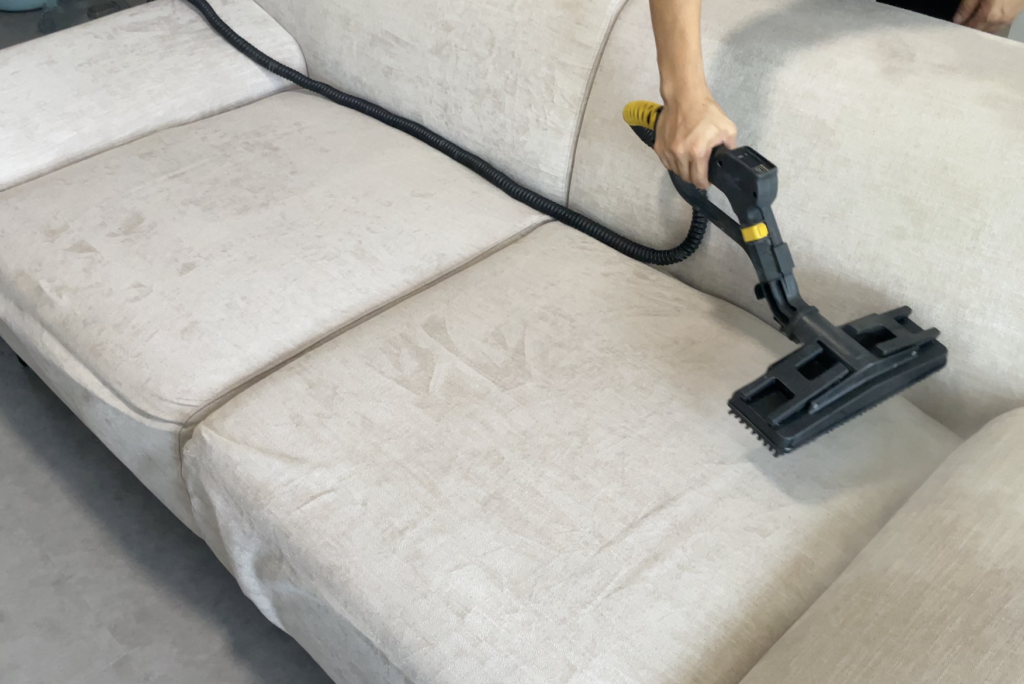 In the next step, they use high-temperature steam to disinfect the sofa fabric. The high heat will kill the germs and bacteria present on the sofa fabric. The temperature can go up to 164 degrees Celsius!
Protective Coating
For this last step, they applied a layer of organic solution which helps protect the fabric against dust mites and germs. The solution is made from natural ingredients so it is not harsh on the skin.
My Verdict
Overall, the whole sofa cleaning process took around 45 minutes. Since there were two workers working at the same time, the cleaning job was done rather quickly. I guess my sofa isn't too complicated in design or challenging to clean as well. Before they left, they emptied the dirty water into our toilet bowl and then ask us to air-dry the sofa for 6 to 8 hours.
It was dried after 6 hours (as the weather was really warm) but we continued to leave it as it is until the very next day. I must say that the fabric definitely felt different – it felt drier and not as damp as before.
I am just hoping that we would be able to maintain this sofa at least for the next few years. We did contemplate getting an easy-to-maintain sofa last year but we chose comfort above everything else. It just felt nice to sit on a cushy fabric sofa as compared to a wooden sofa frame with cushions only.
Would I engage them again? Maybe after a year or when an emergency situation calls for it. This is because it is definitely not cheap to get it cleaned so thoroughly.
Rates
Their sofa cleaning service rates start from $80 for a 1-seater sofa. For my 3-seater sofa, it costs $190 for the deep cleaning package. It will cost slightly more for the ultimate shampoo package. Their rates are pretty competitive, if not, slightly cheaper than some other professional cleaning providers in the current market.
If you are interested, you can quote 'deeniseglitz' to enjoy 10% off their cleaning services.